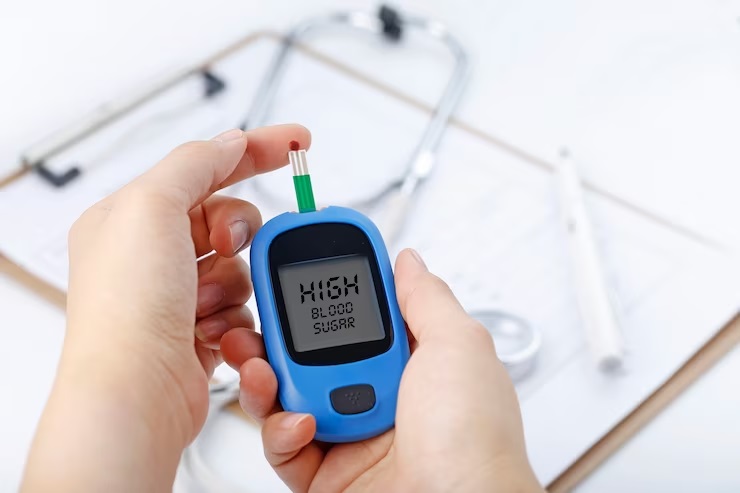 According to the International Diabetes Federation (2021), Indonesia ranks second with the highest number of hyperglycemia sufferers, reaching 19.5 million. This number is projected to continue increasing to 28.6 million sufferers by 2045.
Chronic wounds resulting from hyperglycemia have the potential to become infected, leading to amputation and even death. 
Chronic wounds are susceptible to bacterial infections, with Methicillin-Resistant Staphylococcus aureus (MRSA) being one of the dominant bacteria that has developed resistance to antibiotics.
This condition prompted UGM students to develop an alternative therapy to address chronic wounds in hyperglycemia. Additionally, the treatment aims to combat antibiotic resistance in MRSA with a more economical and effective solution.
"We utilize curcuminoid compounds and marine collagen peptides for the therapy of MRSA-infected hyperglycemia wounds," explained team leader Dwi Ardyan Syah Mustofa.
This idea was initiated by Dwi Mustofa, a student of the UGM Faculty of Veterinary Medicine, along with four of his colleagues: Farhan Dio Sahari (Veterinary Medicine), Syifa Aulia Pramudani (Veterinary Medicine), Alifia Brilliani Hidayah (Pharmacy), and Shabrina Farras Tsany (Medicine, Public Health, and Nursing), under the guidance of Professor Siti Isrina Oktavia Salasia. 
This research is part of the Student Creativity Program in Exact Science Research, funded by the Ministry of Education, Culture, Research, and Technology, and successfully passed the 2023 National Student Scientific Week.
Mustofa explained that diabetic patients' wounds tend to worsen and take longer to heal. Chronic wounds in hyperglycemia infected with MRSA can be treated with surgery and antibiotic administration. 
However, surgery tends to be a last resort due to its high cost. Meanwhile, antibiotic administration is no longer effective due to MRSA's antibiotic resistance.
"The impact of antibiotic resistance is an increase in treatment costs because first-line antibiotics can no longer combat the infecting bacteria. Moreover, the duration of the disease will also prolong, potentially leading to death," Mustofa explained.
The use of curcuminoids as one of the formulas for hyperglycemia wound therapy is based on its antibacterial properties, allowing it to replace the function of antibiotics. Meanwhile, marine collagen peptides are selected because they can accelerate wound healing.
"The collagen we use comes from fish and has been certified as halal, making it suitable for Muslim consumers," he explained.
Curcuminoid is formulated as a nanoemulsion to enhance absorption efficiency, providing a more optimal effect. 
Subsequently, marine collagen peptides and curcuminoid nanoemulsions are packaged in the form of hydrogel, offering comfort to users as it provides a cooling effect, referred to as Hydrolacin-Gel.
Farhan Sahari explained that the curcuminoid nanoemulsion has been tested to evaluate particle size and homogeneity. 
The evaluation results of the nanoemulsion using the Malvern MasterSizer Instrument showed that the formed nanoparticle size is 14.68 nm with a polydispersity index (PDI) of 0.389. 
The PDI results indicate that the particle size in the curcuminoid nanoemulsion is evenly distributed or homogeneous.
"Curcuminoid is a water-insoluble compound. This property is a limitation for curcumin to penetrate the outermost skin layer (stratum corneum)," said Sahari.
"Therefore, a water-based formulation that can release the drug in a controlled manner, such as nanoemulsion, is a good approach for skin wound healing."
Syifa Pramudani added that Hydrolacin-Gel was tested on biopsy wounds in Wistar rats infected with MRSA bacteria and induced with hyperglycemia. This treatment was carried out for 14 days with one application in the morning. 
Then, observations were made on the effectiveness of Hydrolacin-Gel in reducing oxidative stress in rats due to inflammation. 
Histopathological observations were also conducted to assess the level of reepithelization, lymphocyte infiltration, and connective tissue proliferation. 
The results showed that Hydrolacin-Gel demonstrated promising results in healing chronic hyperglycemia wounds infected with MRSA.
"Our research shows that Hydrolacin-Gel has antibacterial activity against MRSA. Wounds in rats treated with Hydrolacin-Gel also showed good healing for chronic hyperglycemia wounds," she explained.
Author: The UGM Hydrolacin-Gel Team
Editor: Ika
Image: The UGM Hydrolacin-Gel Team