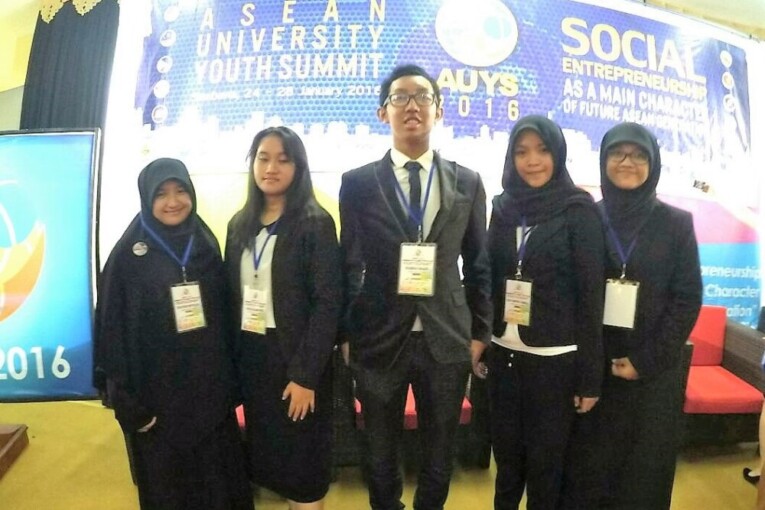 Five Universitas Gajah Mada (UGM) students were chosen to participate in ASEAN University Youth Summit (AUYS) 2016. They are Irvandias Sanjaya and Rista Shafwati Nadhila from Faculty of Psychology, Fauzia Auliana from Faculty of Law, and Tamara Indah and Dyah Novityasari from Architecture Department, Faculty of Engineering. The event was held from 24th to 28th of January 2016 at Universitas Teknologi Sumbawa, Sumbawa region, West Nusa Tenggara. The theme of the event was Social Entrepreneurship as a main character of future ASEAN generation.
ASEAN University Youth Summit is a platform for ASEAN youth to get together and exchange ideas to create collective action toward better understanding of ASEAN Economic Community. This forum was initiated by Student Affairs and Alumnae Department of Universitas Utara Malaysia, collaborating with ASEAN Universities Association, Passage to ASEAN (P2A).
This year is the second annual forum of AUYS. It was first held in 2015. Last year's theme was Forging 1-ASEAN Youth Network Through Volunteerism. In this year event, as many as 200 students from 8 countries participated to contribute as change maker for integration of ASEAN countries.
"Through AUYS forum, the representatives of each country and campus have to express their ideas and innovation related to problems faced by ASEAN community," Irvandias explained, Tuesday (2/2).
He welcomed this event as good opportunity for students to exchange ideas, share experiences and knowledges. Besides, students could also express their aspiration to create integrated ASEAN community on economy, social and cultural matters. "As a change maker, students have to be actively involved on the integration process to create ASEAN community with One Vision, One Identity and One Community," he added.