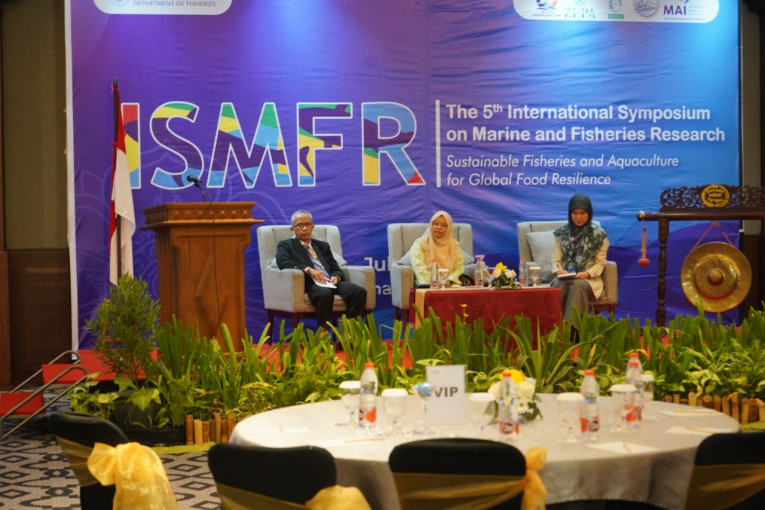 On July 24, 2023, hundreds of scientists and academics from five countries gathered at UGM to participate in the International Symposium on Marine and Fisheries Research (ISMFR).
"118 participants from five countries attend the event," said the Chair of the ISMFR Committee, Dr. Mgs. Muhammad Prima Putra.
Dr. Putra stated that ISMFR, organized by the Department of Fisheries at the Faculty of Agriculture, brings together scientists, academics, researchers, government agencies, private sectors, and stakeholders to share and exchange information on progress, experiences, and research findings in marine and fisheries sciences. 
This year's ISMFR theme is "Sustainable Fisheries and Aquaculture for Global Food Resilience."
The symposium was inaugurated by the Vice Dean for Research, Community Service, and Cooperation of the Faculty of Agriculture, Professor Subejo, accompanied by the Head of the Department of Fisheries, Professor Alim Isnansetyo, and the ISMFR Committee Chair, Dr. Mgs. Muhammad Prima Putra.
The symposium consists of plenary sessions, parallel oral sessions, and poster presentations. Professor Rokhmin Dahuri, the Indonesian Aquaculture Society chair, spoke about "Blue Transformation for Sustainably and Inclusively Fulfilling an Increasing Human Demand for Food, Pharmaceutical Products, Bioenergy, and Other Aquatic Living Resource-Based Products."
Other speakers included Dr. Krishna R Salin, World Aquaculture Society Asian Pacific Chapter president, who discussed "A Six Sigma (6σ) Approach for Quality Management in Aquaculture Production"; Professor Amir Husni from the Department of Fisheries with "The Potential of Brown Seaweed as Food and Health Material"; and Dr. Noranizan Mohd. Adzahan from Universiti Putra Malaysia with "Nonthermal Food Processing Applications for Seafood Products."
ISMFR also featured Dr. Siriyupa Netramai (Mahidol University, Thailand), Dr. Hajime Takahashi (TUMST, Japan), Dr. Nakamura Takashi (University of the Ryukyus, Japan), Dr. Wee Hin Boo (Universiti Kebangsaan Malaysia), Professor Ina Salwany Md. Yasin (Universiti Putra Malaysia), and Dr. R. Dwi Susanto (University of Maryland, USA). 
They are renowned scientists in fisheries and marine, with extensive research experience, numerous publications in prestigious journals, and involvement as reviewers in high-quality international journals.
Author: Ika
Photo: Department of Fisheries