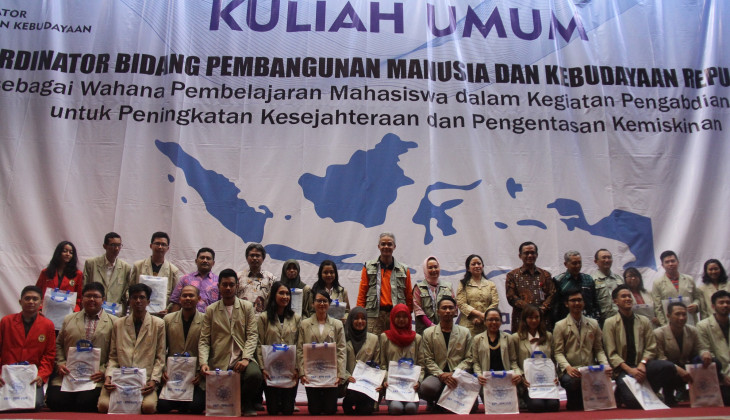 UGM dispatched 5,813 students to the Student Community Service - Community Empowerment programme (KKN-PPM 2016). The programme of KKN-PPM for UGM is important to reaffirm its identity as the University of Pancasila, University of Struggle, University of Culture, National University, and University of People. The aim of community service is to conduct projects that can drive the sustainable independence and prosperity of the community, as well as to generate true leaders who have emphathy for people and concern about national problems. The KKN-PPM students are expected to be able to identify the problems arising with communities and to find the solutions.
This time, the dispatch of students was done by the Coordinating Minister for Human Development and Culture, Puan Maharani, on Monday (20/6) in Grha Sabha Pramana UGM, attended by the Rector of UGM, Prof. Ir. Dwikorita Karnawati, M.Sc., Ph.D, and Governor of Central Java, Ganjar Pranowo. A launch of "Buku untuk Negeriku" (Books for My Country) published by UGM Press marked the opening. A total of 13,490 books will be distributed to KKN-PPM locations.
"It has become our programme to serve the country. We can enjoy the immense extent of knowledge through our books, indeed people all across Indonesia can read books from UGM," said Vice-Rector for Research and Community Service, Prof. Suratman.
According to Suratman, the interest in reading books in Indonesia, particularly in isolated areas, is still low due to the limited supply. The Books for My Country programme aims at improving people's reading habits so they can explore the world.
Meanwhile, the locations for the KKN-PPM programme, which lasts from 20 June - 7 August 2016, are spread across 33 provinces, involving work in 108 regencies, 179 sub-districts, and 276 villlages around Indonesia. These will be divided into 4 clusters: science-tech, agro, socio-humanities, and health. There will be 221 supervising lecturers with 17 professors joining the programme.
KKN-PPM UGM started in 1951. Along its journey, this programme has provided tremendous benefits to empower society in the developemnt of the Unitary State of Republic of Indonesia. Examples of activities in the KKN-PPM programme are groundwater pumping in ten locations in south Yogyakarta, power generators at Raja Ampat and Karimunjawa, alertness to landslide disaster (early warning system and preparedness) in many areas including Aceh, West Java, Central Java, also tourism development in Maratua, Wakatobi and the chocolate industry in Gunungkidul and Sawahlunto.