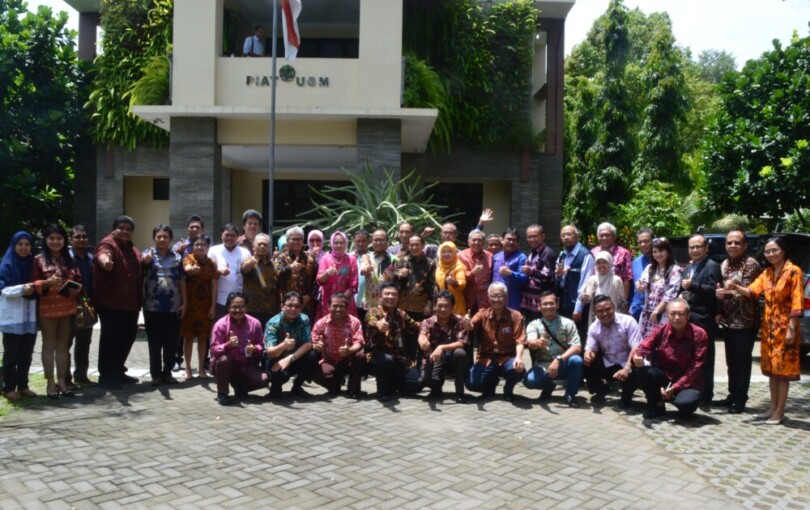 With the number of villages at 75 thousand across the country, development of rural areas poses a huge responsibility. University as a knowledge institution can be the partner for the Ministry for Rural and Underdeveloped Region Development and Transmigration that has the duty to carry out the task.
Opening a focus group discussion on Thursday (10/11) at Centre for Agro Technology Innovation (PIAT) UGM in Kalitirto, Sleman regency, Secretary General of the Ministry, Anwar Sanusi, said the university had the competence to contribute to the government so as to produce the right policy for society.
The event was organised by Higher Learning Forum for Rural Areas (PERTIDES) and was attended by 11 universities and related institutions to support the Ministry's programme. They are Universitas Gadjah Mada, Institut Teknologi Bandung, Universitas Padjajaran, Universitas Andalas, Universitas Pembangunan Veteran Jatim, Universitas Trunojoyo, Universitas Mataram, Universitas Halu Uleo, Universitas Cendrawasih, Universitas Sultan Agung, Universitas Borneo Tarakan, Universitas Brawijaya, and Institut Pertanian Bogor.
"We want until year 2019 there have already 15 thousand of villages been assisted. Let's do the mapping together for this," he said.
Rector of UGM Prof. Ir. Dwikorita Karnawati, M.Sc., Ph.D., in her remarks stated UGM's preparedness to support the rural development. This is in line with the spirit to establish UGM as a university for people.
She explained UGM had conducted rural development over 30 years ago through the Student Community Service programme (KKN) that was initiated by Prof. Koesnadi Hardjasoemantri, the then Rector. Until now, the role of UGM is always visible in the continuing KKN projects and research.
Rector of ITB who is also Chairman of PERTIDES, Prof. Dr.Ir. Kadarsah Suryadi, asked all the participating universities to drive the development for the rural areas. "I hope the universities and the Ministry can make a grand design on what had been initiated by UGM 30 years ago and still running till today," he said.