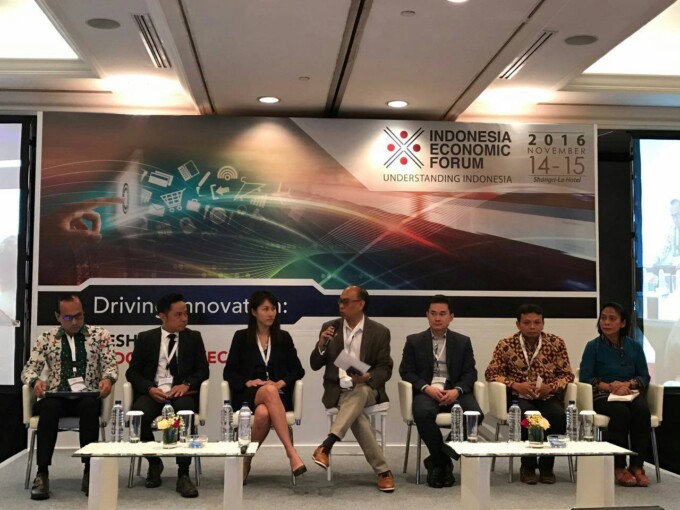 Rector of UGM, Prof. Dr. Dwikorita Karnawati, was one of speakers in the Indonesia Economic Forum 2016 that was organised from 14-15 November at Shangri-La hotel, Jakarta. The Rector described the commitment of UGM in contributing works to the state through implementation of the university principles and collaborations with others to produce beneficial products for the general public.
"We realised that the socio-economic development of the country has to be mobilised by society development based on science to increase human resource competitiveness," she said.
Themed Driving Innovation: Reshaping Indonesia's Economy, the conference brought together business players, policy makers, and experts from various strategic areas to discuss and encourage innovation in the economy. Also attendimg the event were Industry Minister, Airlangga Hartarto; Head of Investment Agency, Thomas Lembong; Ancora Capital founder, Gita Wirjawan; Berkarya Indonesia founder, Ilham Habibie; Six Capital founder, Patrick Teng, Prof. Dr. Gordon Hewitt from University of Michigan, and Prof. Dr. Atif Ansar from University of Oxford.
Prof. Dwikorita further mentioned the rural development that has become the attention of UGM as it is one pillar of life of the Indonesian society. "Data in 1960 proved that 85% of Indonesian population live in rural areas. In 2016 it reduced to less than 50%. So, this is why we have to work hard to develop the rural areas," she said.
The condition has driven UGM to develop the smart village concept to have a knowledge-based society in order to achieve Indonesia's sustainable development.
Furthermore, Dwikorita said of the importance of innovation and technology development to boost the national and global economy. This prompted UGM to collaborate with stakeholders, government agencies, investors, and technology companies, including Six Capital that also supports the Indonesia Economic Forum. UGM and Six Capital collaborated on digital technology development, which has established Digital Innovation Center at UGM. Further, UGM dan Six Capital will work on research applications for preventive healthcare apps named as NusaHealth.
In Geospatial Intelligence, UGM and Six Capital resolved peatland problems on Pulau Padang area that has become the pilot project. On Big Data Analytics, UGM researchers described how big data can be the main asset class in the modern times when organisations with capabilities to collect and analyse big data will enjoy tremendous competitive excellence.