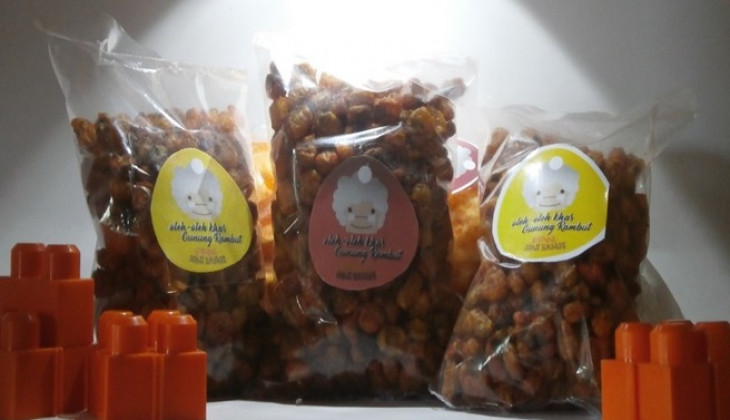 Pitu village in Ngawi regency, East Java, has rich natural resource and productive lands. However, this potential has not been utilised optimally.
In response to this issue, student of Universitas Gadjah Mada doing student community service in that area have initiated training of food processing for the people in one of the hamlets, Gunung Rambut, which lies in the midst of teak forests. In their daily life, the local people grow corn and cassava for their livelihoods.
The isolated area of the hamlet that lacks of road infrastructure hampered the people to develop their economic activities. They have not tried either to make another alternative to increase the added value of the agricultural commodity that can be produced.
Suci Fauziyah Hilmi (Industrial Engineering 2014 student) and Aulia Fasya Baehaqi (Industrial Agricultural Technology 2014 student) initiated the processing of corn and cassava into snacks that have added value. With the supervision from Atus Syahbudin, S.Hut., M.Agr., Ph.D., they made cassava chips and corn snacks. The method was very simple. They gathered the cassava from the Gunung Rambut fields and did production, involving the local people, especially the women.
Another student, Arif Rohman Mu'tasim, (Management 2014) did the marketing and distribution of the snacks to be able to give additional income to the people.
With the trade mark Mak Rambe which is a traditional brand, they want to show that the snacks are processed naturally with original recipes from the ancestors.
"Apart from offering the originality of the snacks, Mak Rambe corn and cassava also give an added value by carrying local wisdom, tradition, and geographical richness," he said on Wednesday (2/8).
Still another student, Dian Nur Isroin (Agronomy 2014) said they made the snacks in three packages, family, retail, and gift, to target all kinds of consumers.
The students raise these aspects because the community empowerment through food processing not only produces a certain product, but also raises the quality of life of the local people. They also want to promote the potential and rich culture of the Pitu village and Gunung Rambut hamlet.