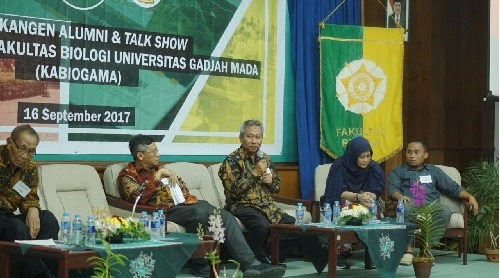 Faculty of Biology UGM organised alumni gathering titled Kabiogama on Saturday (16/9). It was attended by hundreds of alumni from across the country.
Event chairman, Ganies Riza Aristya, S.Si., M.Sc., said until today Faculty of Biology UGM had generated over 5,400 alumni around Indonesia. They work as academicians, researchers, industrial workers, government officials, consultants, entrepreneurs, and expert staff at various organisations.
"With the expanding number of alumni of this faculty, a forum needs to be held that can strengthen the communication between them and inspire junior alumni as well as Biology students," he said.
To meet this goal, Faculty of Biology UGM in collaboration with Kabiogama executives organised a talk show and alumni gathering at Faculty of Biology UGM to coincide with the 62nd anniversary of the Faculty.The talkshow presented seven alumni that shared experience and inspiration for career development.
"The alumni gathering is not only a reunion, but also a forum for information exchange, networking, as well as inspiring students for future career," he said.
The event was opened by Chairman of Kabiogama, Prof. Dr. Kadarwati Budiharjo, S.U., and Dean of Faculty of Biology, Dr. Budi S. Daryono, M.Agr.Sc. Also attending were Vice-Rector of UGM for Cooperation and Alumni, Dr. Paripurna, S.H., M.Hum. LLM.