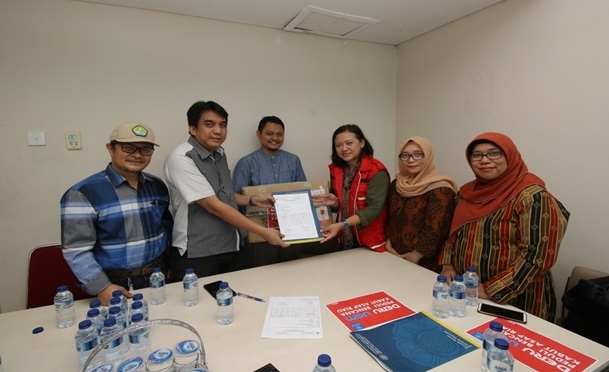 Disaster Response Unit of Universitas Gadjah Mada (Deru UGM) handed over masks and medicine to the Disaster Response team of Universitas Riau (UNRI) on Friday (27/9) for people affected by smokes due to forest fires in Riau Province.
The event was facilitated by UGM alumni in Riau (Kagama Riau). Representative from Deru UGM, Destina Kawanti, S.Si., M.IP handed over the aid to Director of UNRI Academic Hospital, Dr. Zulharman, M. Med, at the UNRI campus in Panam, Pekanbaru, witnessed by the alumni.
Destina Kawanti explained Deru UGM was a form of care of UGM to each disaster occurrence in Indonesia. Deru UGM is coordinated by Community Service Directorate UGM.
The aid consisted of Masks N95 (800 pieces), Omron Nebulizer (15 unit), Velutine Nebule (100 pieces), and Wilda N5 500 ml (50 pieces).
Meanwhile, dr. Zulharman said the medicine was much required by the local people due to the increasing prevalence of asthma and respiratory disease cases being treated at the UNRI hospital. Representative from the Riau university disaster response unit, Dr. Arifudin, SP.,MP said apart from the hospital, the aid would be donated to other residents that need it.
Representative from UGM alumni in Riau, Indah Retno Widayanti, SH.,M.Kn, appreciated UGM for trusting them to facilitate the event. In other events, they collaborated with Riau Natural Resource Conservation Agency (BBKSDA Riau) to facilitate donating aid in the form of masks HEPA (3 M 6200 and Cartridge 7093) given by companies in Riau to forest fire fighters.