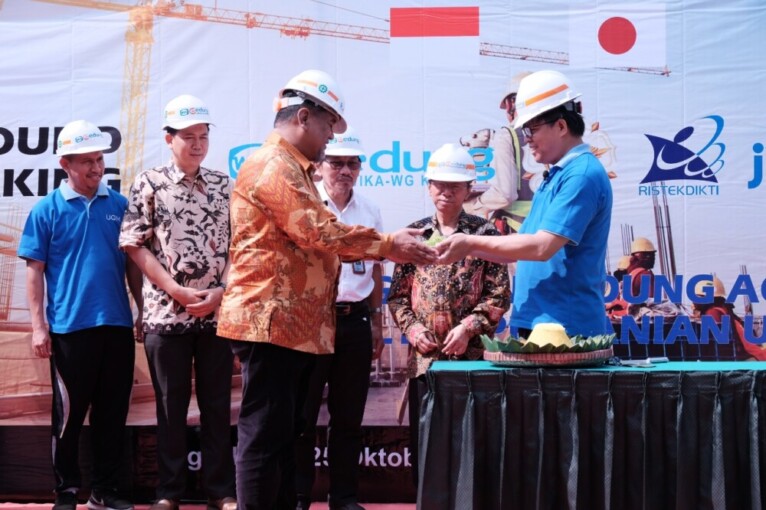 Construction of the new building of Faculty of Agriculture UGM started on Friday (25/10) with the first rock laying event.
The Agrotropical Learning Center is built as a research centre and centre of excellence to support the graduate programme of the Faculty.
"In 300 days the construction of the building will be completed," said Dean of Faculty of Agriculture, Dr. Jamhari, S.P., M.P.
Vice-Rector of Human Resource and Asset of UGM, Prof. Dr. Ir. Bambang Kironoto, said the proposal for the new building started in 2015 and it was implemented this year. "We have a responsibility to optimise the use of the building. It will benefit us if we have a good programme," he said.
According to Bambang, new buildings would later replace older buildings that are no longer feasible. The new buildings will be designed on the concept of green building that minimises electricity consumption. To ensure that the construction was done according to the standard and at the right time, UGM through Project Implementation Unit (PIU) will do a close monitoring and coordination with each Faculty.
"Good coordination is needed between UGM, PIU, and the Faculty," said Bambang.
The Agrotropical Learning Centre is among the ten buildings in eight faculties that are built with the loans from Japan International Cooperation Agency (JICA) worth Rp1 trillion. The other faculties are Faculty of Pharmacy that will build Advanced Pharmaceutical Science Learning Center, Faculty of Law to build Law Learning Center, Faculty of Animal Science to build Animal Science Learning Center, Faculty of Dentistry to build Dentistry Learning Center, and Faculty of Forestry to build Integrated Farming Learning Center. Next, Faculty of Engineering is building Smart Green Learning Center as well as Engineering Research and Innovation Center, and Vocational School is building Teaching Industry Learning Center and also Field Research Center in Kulon Progo.