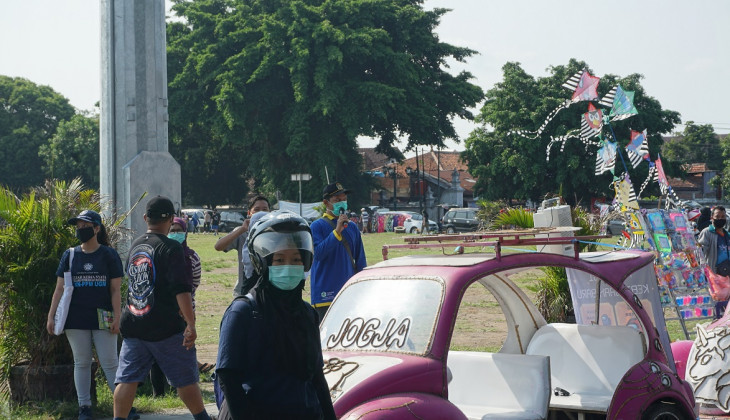 The third period of UGM SCS-CEL 2020 has repeatedly assigned students to serve the community with the theme entitled "Recovery from the Impact of the Covid-19 Pandemic" since last Monday (12/10). Currently, Students Community Service conducts both online and offline methods but still applying health protocols. Students are also expected to become agents of change in encouraging behavior development towards a society that stays alert to Covid-19.
From its goal, the YO288 unit, a collection of students domiciled in Yogyakarta City and the Kraton District's working area, are striving to approach the community about health protocols socialization, namely "Odong-odong Covid." Odong-odong is a vehicle like a car that takes 4-6 people who drive by pedaling along with the passengers and equipped with speakers to play songs.
Usually, people go along to Yogyakarta's Alun-Alun Kidul (Alkid) to try out this unique vehicle. Odong-odong has been enhanced to an extraordinary icon, and it can be used for socialization because it is catchy. Throughout this vehicle, the team could easily reach public places and enter the community.
As Koormanit YO288, Alif Indira said that her party and friends also added the mascot of the viral game in the form of the clown "Among Us" in this SCS activity. This game aims to find the killer among people in the same game room while doing their respective tasks. The process of accusing people and exciting debate often occurs. This atmosphere is similar to the current Covid condition. The public often gets hot news information to be debated.
"This clown aims to ward off misperceptions among the public as we are socializing the 3M protocol," said Indira on Tuesday (27/10).
This activity was first organized on Saturday last week (24/10) with the route around Panembahan and Alkid Villages. So far, the community still supported this program and gave good feedback regarding this activity. This flexible approach with local wisdom makes the community eager to wait for the appearance of odong-odong in their area.
According to Indira, this program is supported by local officials, including the Kraton Puskesmas, the Kraton Police, and the 0819/03 Kraton Koramil. The Covid Odong-odong will be routinely conducted once a week to obey the Covid protocol around Kraton District as an unsafe area due to the large number of tourists returning to Jogja City at the end of this year.
Author: Hakam
Photo: KKN YO288
Translator: Natasa A