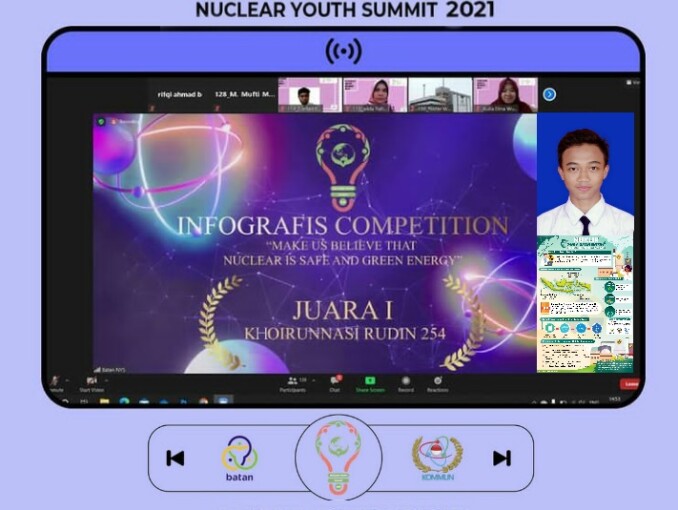 Engineering physics student Khoirunnasi Rudin was announced as first place infographic contest winner of the Nuclear Youth Summit 2021 hosted annually by the National Nuclear Energy Agency (BATAN) and National Nuclear Youth Community (KOMMUN).
Nuclear Youth Summit is a national competition to showcase the significance of the young generation and nuclear enthusiasts in nuclear innovation discussion and creation, both for research and public knowledge. The competition comprises three categories, namely infographics, essays, and video graphics.
There were a total of 23 participants for all categories that submitted their works by June 2. Judges decided on the top three finalists within June 3 to 5 and announced the winners on June 6 online. The announcement was preceded by talk shows that talked about nuclear technology and youth's role in dealing with global challenges. For the infographic contest, Khoir raised the nuclear potentials in Indonesia as an alternative, green, and safe energy and means to educate the general public about nuclear importance.
According to Khoir, the pandemic has challenged him big time, especially regarding the online circumstances throughout the competition. Though difficult, partaking in a contest in an uncertain time like the pandemic has motivated him to remain productive and finish strong.
"Going to the competition online without meeting other participants in the flesh is a disadvantage one way or another. But, it also helps me to balance my academic activities during the contest. Hopefully, there will be more (achievements) to come in the future," he said when interviewed on Friday (9/7).
Author: Desy