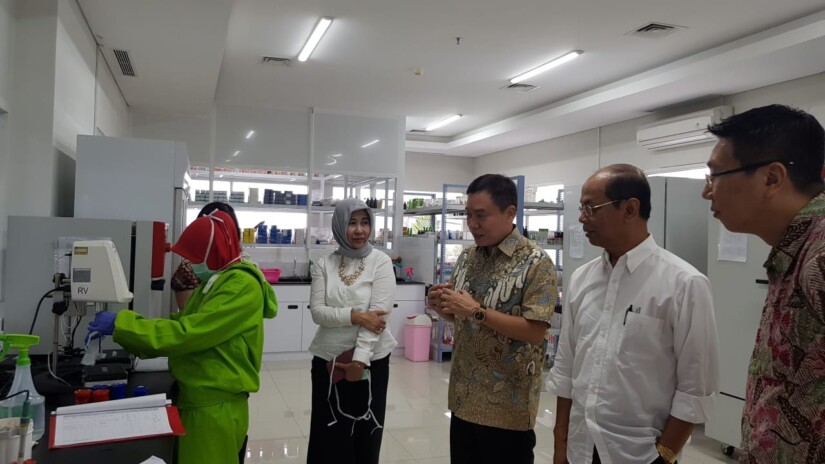 The UGM research team led by a pediatric dermatologist, Prof. Retno Danarti, has developed a timolol maleate gel formula to treat infantile hemangioma (IH), a benign vascular tumor found in 4%-10% of infants in the first year of life.
"We give timolol maleate therapy to patients with this benign vascular tumor. It helps reduce lesions after six months of topical use," explained Retno.
The cause of infantile hemangiomas remains unknown at this point. The tumor usually appears as a red or blue raised lesion on the skin and is sometimes called a strawberry mark. While it is a non-life-threatening kind of tumor and will shrink on its own over the next few years, some parents and children may find it visually bothersome when it occurs in a visible area.
Corticosteroid creams are among the treatments for superficial IHs. It is widely used and available at affordable prices. However, only 30% of patients showed improvement after using the cream.
"Corticosteroids have many side effects and sometimes result in failure or lack of regression. Hence, alternative topical therapies are necessary," said Retno.
Retno explained that her team started researching this therapy after attending the World Congress of Pediatric Dermatology in Bangkok in 2009. One of the congress speakers presented a new oral and topical beta-blocker therapy for IHs.
The team gathered data on patients diagnosed with infantile hemangiomas and conducted a preliminary study for about eight months. They administered timolol maleate 0.5% solution, a drug used to lower the pressure inside the eyes of patients with glaucoma or other eye diseases (such as ocular hypertension).
The study involved two hundred and seventy-eight patients from the Department of Dermatology and Venereology, Dr. Sardjito Hospital, from January 2009 to December 2014. The treatment lasted six months and was evaluated monthly, showing a 90% response rate and efficacy for inhibiting tumor growth and promoting tumor shrinkage.
"The advantages of topical timolol maleate are that it is relatively inexpensive, easy to use, and has minimal risk of side effects when applied to the face or the area around the eyes," she said.
The team is currently developing a timolol maleate-loaded nanoparticle gel. The gel formulation reduces application time to only once a day (twice a day for solution formulas) and does not easily drip onto the skin when applied.
"Once we have found the optimal gel formulation and finished a penetration test on synthetic skin, we will work closely with pharmaceutical manufacturers to produce the gel. We also need to obtain ethical clearance from the UGM Faculty of Medicine Ethics Commission first to start giving it to patients," she said.
Author: Gloria