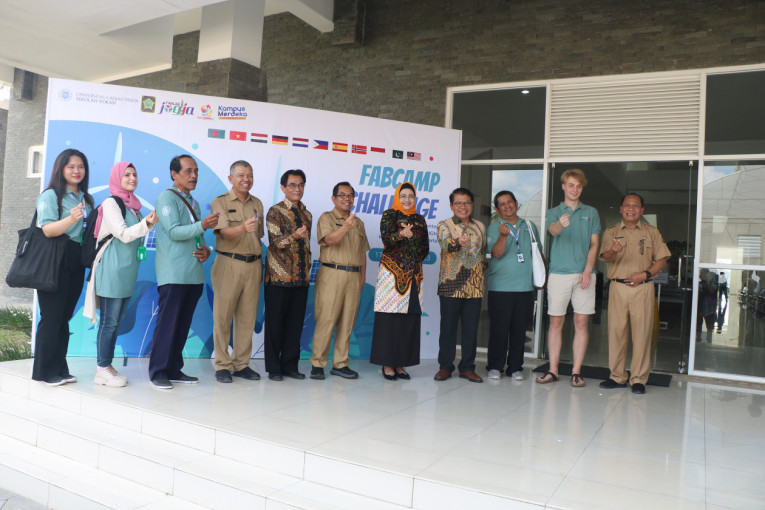 The UGM Vocational College hosted the 2023 Fab Camp Challenge at the UGM Field Research Center (FRC) in Kulon Progo, Yogyakarta, from September 17 to 21, 2023. 
The event attracted 60 participants from 12 countries, with 17 international participants from Pakistan, Malaysia, Norway, the Philippines, Japan, Vietnam, Yemen, Bangladesh, Germany, Spain, Bhutan, and the United States. 
Additionally, 20 locals from Kulon Progo, including local government representatives, vocational high school students, SMEs (Small and Medium-sized Enterprises)/farmer groups, and waste and resource management facility operators, participated in the event. 
It also involved 28 UGM students, UGM International Affairs Office representatives, and Kulon Progo Regional Development Planning Agency representatives.
Fab Camp was organized as a concrete example of support for the commitment to elevate local wisdom to contribute globally. Kulon Progo, a key contributor to the Yogyakarta economy, was a focal point for introducing a culture of innovation and collaboration, which aims to enhance capacity and contribute to the community's well-being.
The Acting Regent of Kulon Progo, Ni Made Dwipanti Indrayanti, welcomed the event as a joint effort to advance innovation in Kulon Progo. 
The local government of Kulon Progo continuously strives to improve quantitative and qualitative innovation. In 2023, this program was named "Gema Indahku" (Together Advancing Innovation in Kulon Progo).
"Based on our observations in the field, there are three subjects that will be discussed in detail regarding issues related to renewable energy, smart agriculture, and wise management," Acting Regent Indrayanti said in her opening remarks on Tuesday (September 19).
For the acting regent, these three issues are not only a concern in Kulonprogo but also throughout the Special Region of Yogyakarta and even Indonesia. Therefore, everyone needs to seek solutions collectively.
"For example, issues like drought due to El Niño, but thankfully, Kulonprogo has not experienced drought problems, especially in agriculture. However, this serves as a task, an idea, or material for discussion so that solutions can emerge from the FRC that benefit all of Indonesia," she explained.
The Project Director of Fab Lab at UGM, Professor Djagal Wiseso Marseno, highlighted the complexity of future challenges. He emphasized the need for collaboration and convergence among various stakeholders, including government officials, intellectuals, financiers, and societal actors.
"Everyone must come together to build this nation. This Fab Camp Challenge aims to bring together ideas from all around the world, primarily from the younger generation capable of generating ideas after observing societal problems," he expressed.
"They are even given the opportunity to visit locations facing issues, especially in the areas of energy, agriculture, and the environment, with a focus on waste management."
To facilitate this, he continued, FRC provides facilities and a conducive environment for the growth of ideas, followed by collaboration and synergy to produce solutions. Being a problem solver is highly needed today, and it involves bringing together different disciplines and fields of knowledge that result in monumental products.
Professor Marseno added that before the Fab Camp activities, participants had already engaged in online meetings, received briefings, and immersed themselves in the community to identify problems. 
"From identifying these problems, they then engage in discussions here to generate creative ideas capable of solving community issues," he added.
The Dean of the UGM Vocational College, Professor Agus Maryono, stressed UGM's commitment to supporting creativity and innovation through synergy involving the university, industry, government, and the community (UIGC). 
In addition to establishing the Field Research Center in Kulon Progo as a hub for innovation and community engagement, UGM also established a Fabrication Laboratory (Fab Lab) at FRC, an open innovation ecosystem with the slogan "Making (Almost) Anything."
Fab Lab Jogja (UGM) has devised a strategic plan with a focus on the follow-up to the 2022 Ideathon, which includes the acceleration and expansion of collaborations, revitalization of activities through the enhancement of the university's Key Performance Indicators (KPIs), and the strengthening of national and international networks. 
One of the strategic activities designed is the 2023 Fab Camp Challenge, which serves as a training, collaboration, and skill development initiative, especially in the technology field, aimed at accelerating technological advancements based on real-world issues in Kulon Progo.
"This is a camping event for fabrication, with 60 participants tackling three key issues: energy, environment (waste), and smart agriculture," the dean explained.
"In the future, it may expand further. Participants are presented with real problems to bring to the Fab Camp, discuss, and find solutions. The outcomes include prototypes for problem-solving, encompassing technologies, methodologies, and more."
Author: Agung Nugroho