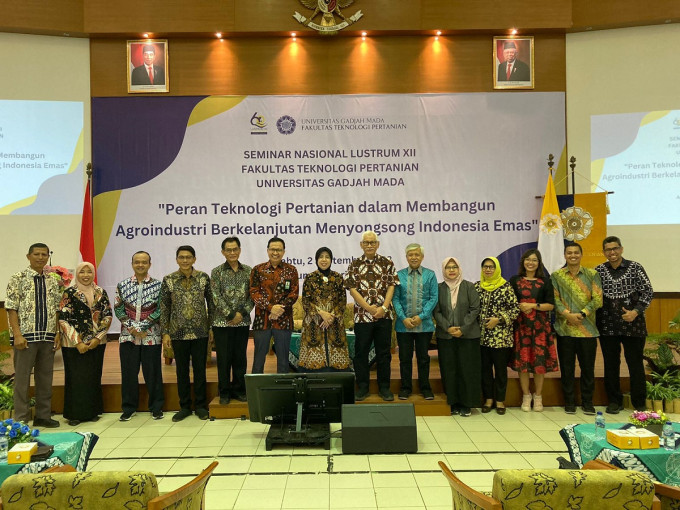 To mark its 12th anniversary, the UGM Faculty of Agricultural Technology organized a national seminar titled "The Role of Agricultural Technology in Building Sustainable Agroindustry Towards Golden Indonesia" on Saturday, September 2. 
The event invited representatives from the Indonesian ministries and UGM's academic community to discuss agricultural strategies facing contemporary challenges.
The agricultural industry and technology are crucial in realizing the 2045 Vision of Indonesia (Golden Indonesia 2045). Food security, agrarian sustainability, and the welfare of agricultural labor are essential factors in shaping sustainable agroindustry. 
"We all understand that the need for food is increasing in quantity, quality, and affordability. Healthy and affordable food for all is our shared aspiration," said the Minister of State Secretariat, Pratikno, who also serves as the Chair of the UGM Board of Trustees.
"Several factors make this goal difficult to achieve. Firstly, the world's population is steadily increasing; the global population has exceeded 8 billion, and the UN predicts it will reach 10 billion by 2040. This means an increasing need for food."
"Secondly, the global situation significantly disrupts food supplies, especially the escalating geopolitics. Thirdly, climate change. It is predicted that 24% of Indonesia's territory is experiencing the peak of the dry season."
"The impact is extraordinary, especially on food security, and the resulting losses are significant."
He emphasized that the role of academics and experts would be crucial in providing solutions for anticipatory and effective measures during food crises.
As an agrarian nation, Indonesia has the target of becoming the world's largest food supplier in the future. However, agroindustry will not be able to work at its full potential without technological innovation accompanying the utilization of existing resources. 
Professor of Irrigation Engineering at the Faculty of Agricultural Technology, Professor Sigit Supadmo Arif, explained that the foundation of agricultural development is not just the land and water but also technology. 
"Our land is changing; the Earth's surface is changing. Some parts are disappearing, while others are merging. Then the question arises: how about irrigation? This is a crucial aspect of agriculture. This is one of the cases where I believe technology will play a vital and supportive role," he stated.
Professor Arif added that most of the Earth's resources have already experienced crises. Increasing population leads to higher demands for housing and other industries, resulting in higher rates of land conversion. 
Climate change and unforeseen phenomena are deadly threats that must be prepared for. The country could face a prolonged crisis if this trend continues without technological readiness.
Smart Farming is one of the innovations proposed to strengthen Indonesia's food security. Dr. Bayu Dwi Apri Nugroho, a Faculty of Agricultural Technology academic and research staff at the Indonesian Ministry of Agriculture, explained how Smart Farming can solve agricultural issues. 
"We are facing at least three agricultural challenges: uncoordinated farming systems, a lack of labor absorption, and low farmer incomes," he said.
"We still have household-based paddy fields, and Smart Farming seeks to integrate them to manage them collectively. Technologies like this will be challenging to adopt and understand if we do not directly engage in the field."
The shortage of new agricultural labor is another issue. Elderly farmers currently manage most agricultural land; no successors manage these lands. 
"I am confident that most farmers do not want their children to become farmers. Even with the current generation, only a few are willing to become farmers," Dr. Nugroho added.
"This then becomes a problem. The role of technology will be to increase the attractiveness of farming among young people."
Author: Tasya