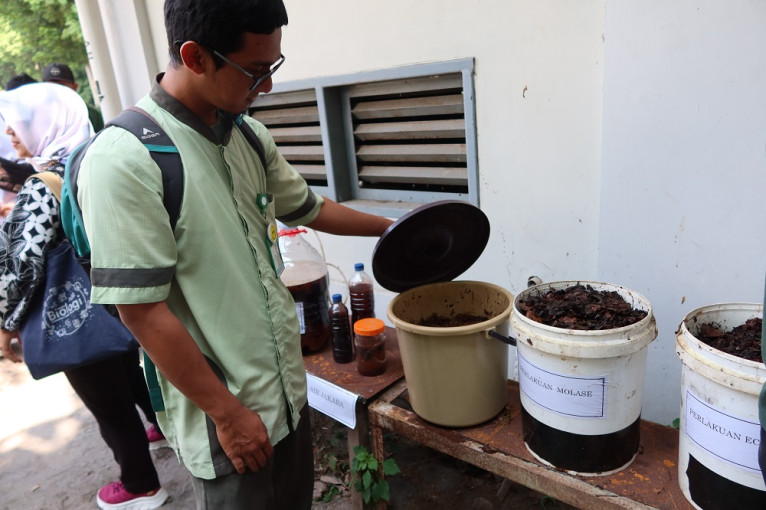 Waste remains a significant problem for communities, making waste management crucial to address this issue. 
The UGM Faculty of Biology is trying to introduce various simple technologies for processing household waste, particularly organic waste. It is hoped that the community can practice these technologies.
Dean of the Faculty of Biology, Professor Budi S. Daryono, mentioned that since 2017, the faculty has been tackling organic waste issues using various approaches. 
The approaches include waste processing through vermicomposting, liquid organic fertilizers, eco-enzymes, composting, and biofertilizers from animal urine.
"Waste is a problem that originates from ourselves, so we must solve it. At the Faculty of Biology, we process a minimum of 25 kilograms of organic waste daily," he explained on Monday (7/8) while opening a Waste Processing Training.
"We share these methods with the hope of helping to maintain cleanliness and environmental sustainability."
UGM's emphasis on environmentally friendly and sustainable waste management aligns with sustainable development goals (SDGs). 
Sustainable waste management can improve healthier lives (SDG 3), reduce waste pollution affecting clean water availability (SDG 6), demonstrate responsibility for consumption and production (SDG 12), and address climate change due to greenhouse gas emissions from organic waste accumulation (SDG 13). 
It also contributes to creating sustainable cities (SDG 11) and preserving marine ecosystems (SDG 14) and terrestrial ecosystems (SDG 15).
Around 60 participants from hospitals and Islamic boarding schools attended the waste management training. They are part of the Sambatan Jogja movement (SONJO). 
Over three days, from August 7 to 9, 2023, participants participated in organic waste management training at the Faculty of Biology and inorganic waste management training at the Faculty of Dentistry.
During the training at the biology faculty, participants received an explanation about how to process waste into fertilizer using biofertilizer from lecturer Dwi Umi Siswanti.
She explained that the composting process utilizes nine species of microorganisms. Adding biofertilizer accelerates the degradation process compared to conventional methods.
"The process doesn't take too long, usually around two weeks or more. However, with the addition of biofertilizer, composting can be faster," Siswanti explained.
The application of biofertilizers is relatively simple. It involves diluting the biofertilizer with a ratio of 1:11 biofertilizer to water. The liquid is then poured into a sprayer and sprayed onto shredded waste before being covered with a tarp. 
The tarp is opened every two days, and the shredded waste is turned over and then covered again. This process is repeated for two weeks, after which the compost fertilizer is ready to be dried or aerated and then sieved for packaging.
"This composting process is efficient and environmentally friendly. Waste can be transformed into compost or nutrient-rich liquid fertilizer," Siswanti clarified.
Dr. Sukirno explained converting organic waste into liquid organic fertilizer through vermicomposting using black soldier fly (BSF) maggots.
To produce liquid organic fertilizer, household food waste is placed in a stack of buckets in a digestor. The organic household waste is then fermented using maggots.
"BSF accelerates waste degradation, making fermentation faster and more effective," he explained.
Soenarwan Heri Poerwanto taught vermicomposting using earthworms. Organic waste from agriculture, plantations, and animal husbandry can be turned into organic fertilizer by adding earthworms as agents to degrade the waste.
Creating the fertilizer is relatively straightforward. First, the organic waste is crushed into small particles. Then, it is spread evenly at a 20-30 cm height, and earthworms are added. It's crucial to maintain a moist environment when introducing the earthworms.
"These earthworms can degrade organic waste equivalent to their body weight within 24 hours. The result is granules from the earthworms that can be used as fertilizer," Poerwanto revealed.
Poerwanto said the fertilizer could be used in agriculture. Additionally, the earthworm biomass can be utilized as a protein source in fisheries and animal husbandry, as a mixture for fish and livestock feed.
Rimawan Pradiptyo, the founder of SONJO and a lecturer at the Faculty of Economics and Business, explained that this waste management training for SONJO volunteers is a form of UGM's active role in addressing the waste emergency issue. 
Residents of the Yogyakarta Special Region, especially Sleman, Bantul, and Yogyakarta City, face a waste emergency due to the closure of the Piyungan Final Disposal Site on July 23, 2023. 
Seeing this situation, SONJO has taken action. It contributes by promoting waste sorting and collection at the household and community levels, and one way is by providing waste management training.
Author/Photographer: Ika