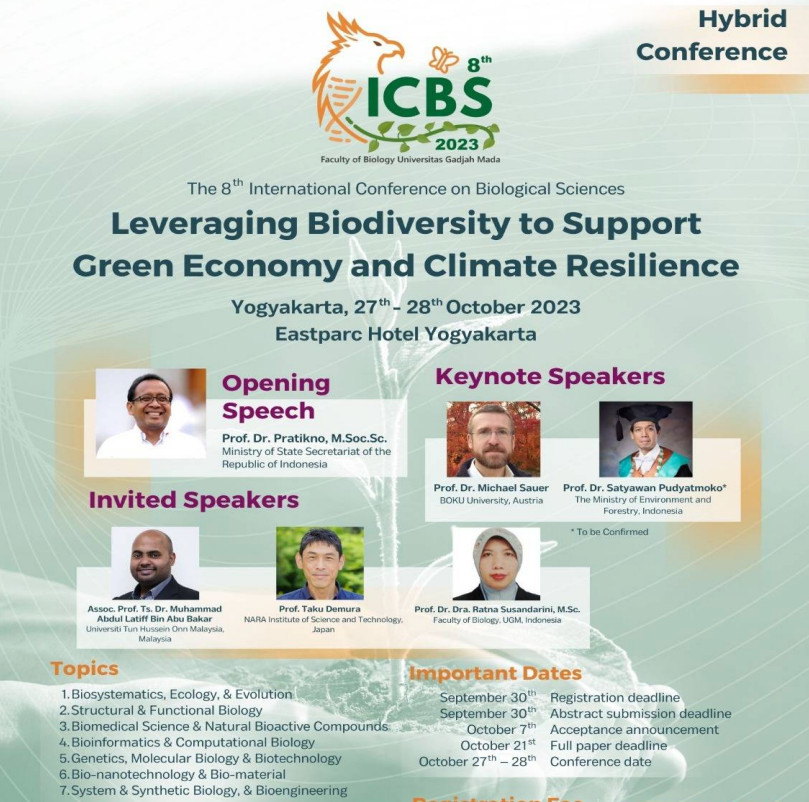 | | | |
| --- | --- | --- |
| Committee | : | Faculty of Biology |
| Location | : | Eastparc Hotel Yogyakarta |
| Contact | : | icbs.biougm@ugm.ac.id |
| Website | : | icbs.biologi.ugm.ac.id |
| Event | : | Friday, 27 October 2023 - Saturday, 28 October 2023 |
We are pleased to announce that Faculty of Biology, Universitas Gadjah Mada, Indonesia in collaboration with Universiti Tun Hussein Onn Malaysia (UTHM) and Konsorsium Biologi Indonesia (KOBI) will be organizing the following conference:
The 8th INTERNATIONAL CONFERENCE ON BIOLOGICAL SCIENCES (ICBS) 2023 "Leveraging Biodiversity to Support Green Economy and Climate Resilience"
The conference will be held for two days and will be opened by the Minister of State Secretary Indonesia, Prof Dr. Pratikno, M.Soc.Sc.*. The conference will consist of plenary, oral, and poster sessions. The plenary sessions will consist of presentations from a number of keynote speakers and invited speakers from both international and national.
Below is the list of keynote speaker and invited speakers:
Keynote Speaker:
1. Prof. Dr. Michael Sauer (BOKU University, Vienna)
2. Prof. Dr. Satyawan Pudyatmoko ((Director General of Conservation of Natural Resources and Ecosystems Ministry of Environment and Forestry, Indonesia)*
Invited Speakers:
1. Prof. Madya Ts. Dr. Muhammad Abdul Latiff bin Abu Bakar (Universiti Tun Hussein Onn Malaysia)
2. Prof. Taku Demura (Nara Institute Science and Technology, Japan)
3. Prof. Dr. Ratna Susandarini, M.Sc. ( Faculty of Biology, UGM)
Furthermore, oral presentations for each topic will take place in parallel rooms. Meanwhile, poster sessions will be scheduled during the conference. All sessions will be conducted in English. All submitted papers will be peer-reviewed based on originality, technical quality, and their presentation. The organizing committee will produce an electronic proceeding containing all accompanying papers of the accepted oral and poster presentations. The proceedings will be published in Proceedings BIO Web Conference will be indexed by Scopus (if applicable).
International participants from various backgrounds (academia, industry, NGO, or government) are welcomed to join.