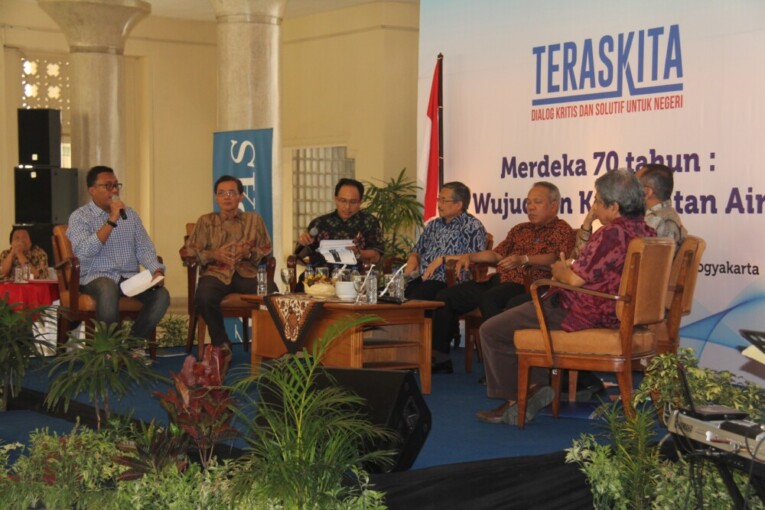 The drought threats can now be allayed, because Indonesia is not suffering from drought but from water deficit. If the country wants to have sovereignty in water issues, it has to prepare for more water catchment areas.
Those were stated by Minister for Public Works and Public Settlement, Dr. Ir. Basoeki Hadimoeljono, M.Sc, during a dialogue themed 70 Years of Independence, Realise the Water-Sovereign Nation, in Balairung UGM, Saturday (22/8). The discussion organised by UGM in cooperation with KAGAMA alumni association, Kompas daily and Sonora FM radio, invited resource persons: Head of Meteorology and Geophysics Agency (BMKG), Dr. Andi Eka Sakya, M.Eng, Ministry of Agriculture's Head for Human Resource, Dr. Dadih Permana, expert staff to Minister of Environment and Forestry, Dr. Arief Yuwono, special staff to Central Java Governor, Drs. Sunaryo, and UGM agriculture professor, Prof. Dr. Azwar Maas.
According to the Minister, building a big water catchment is one way to realise the water sovereignty. Dams are considered appropriate to overcome water deficit during the dry season, especially in agriulture sector. Currently, none of Indonesia's 230 big and 91 smaller dams is deficient of water.
"Thus, if we want to be sovereign in terms of water, building dams is one of the ways to achieve it," he said.
Anwar Maas has asked people to start catching rainwater to be store underground. Environment management for water basins is also needed.
On the current drought effects, Andi Eka Sakya, said the evaporation in East and Central Pacific very influenced all evaporations in Indonesia, making these "disappear".