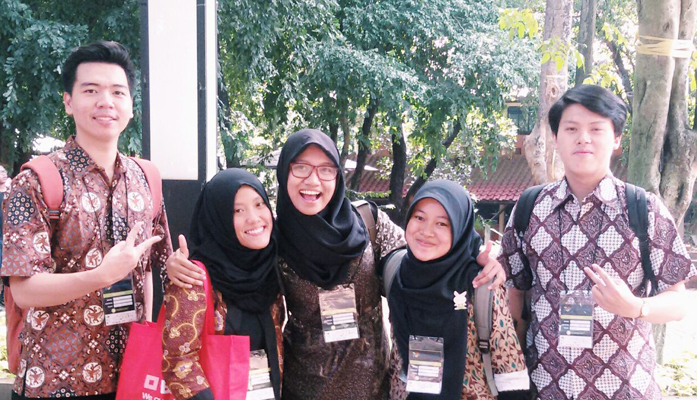 Excellent service is required to meet expectations and needs of customers. Excellent service that meets quality standard is a service that is expected and satisfactions of customers.
"Related to library, understanding the library as a business will help librarians give excellent service to users," said Ratih Ibrahim, MM Psychologist on Personal Growth from Jakarta in an international seminar entitled Multitasking Librarian at UC UGM, Thursday (10/3).
According to Ratih, some tips to improve librarian quality is to have command of organisation skills, interpersonal skills, friendly spirit, computer and language skills.
"Librarians have to be able to give what they have promised to customers. As a centre of data and information, library has to deliver. Hence, soft skill is important to improve personal growth," she said.
Mrs. Lee Cheng Ean, Head of National University of Singapore (NUS) Library, said that building collaboration culture was key to library human resource development, such as developed by NUS on the concept of embedded librarianship.
"Embedded librarianship, or building collaboration between librarian and academic community, can support teaching, learning and research," said Lee.
Carrying the theme of presentation NUS Librarians: Partners in Learning, Teaching dan Researching, Lee said further that a shift in librarian competence has taken place along with global change and the vision-mission of university and library. Thus, the strategy is to attempt for development of abilities, excellent service and continuing budget.
Dr. Kuwat Triyana, lecturer and researcher at LPPT UGM, the presence of librarian is needed to meet university's mission on education, research, and community service. Librarian is seen as a mobiliser of library that communicates research information and teaching to academic community.
"So, the library has to keep up to date related to researches where we need new references," he said.
This international seminar was held to celebrate the 65th anniversary of UGM Library. Led by Drs. Ida Fajar Priyanto, MA., Ph.D, the seminar was followed with prize presentations to winners of Popular Scientific Writing Contest 2016. The winners are: first: Purwoko, SIP., M.A (Faculty of Engineering UGM), with at title Scholarly Communication: Competence for University Librarian; second: Nur Cahyati, S. (Anthropology UGM) with a title Make-up for Quality: Towards Embedded Librarian; and third: Risty Prasetyawati, SIP (STIKES Jendral Ahmad Yani, Yogyakarta), with a title Competence of Librarian in Embedded Librarianship.