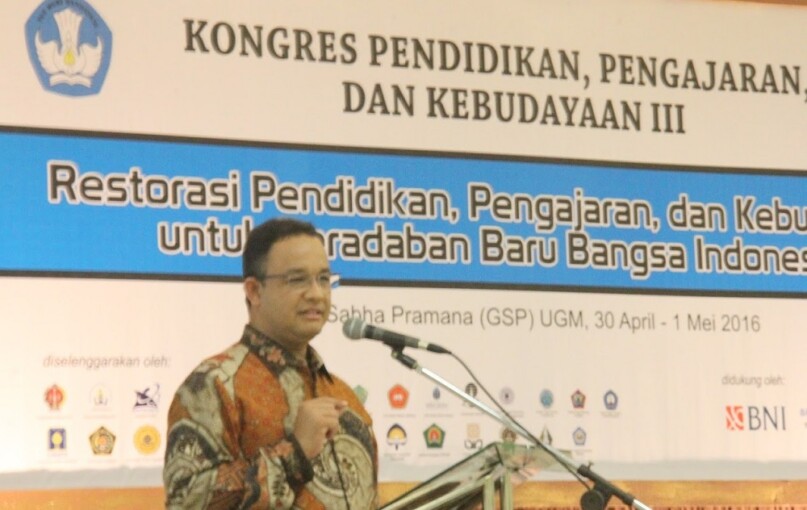 Minister for Culture, Primary and Secondary Education, Anies Baswedan, supports education restoration for Indonesia. This is an attempt to re-awaken the spirit for building a better future. This was said by the Minister during the Education, Teaching and Culture Congress III at Grha Sabha Pramana UGM on Saturday (30/4).
Anies saw currently there is a gap in education in the country. Data from World Econommic Forum showed the school setting currently still stays at the 19th century, teachers 20th century while the students in the 21st century. "This is a real gap that we need to address," said Minister Anies.
The Minister touched upon components to be taught to students, such as being honest, polite and hard working. These have to incorporated with creativity, communication and good manners. The main component, good manners, need to be instilled and trained through intracurricular, extracurricular or non-curricular activities. "We need to instill good mindset in education. Education restoration is an attempt to keep working, making Indonesia influential in the world," he said.
Governor Sri Sultan HB X in his remarks said that education in Indonesia cannot be separated from Javanese culture inherited from generation to generation. Sri Sultan also mentioned the important role of national education hero, Ki Hajar Dewantara.
"Ki Hajar Dewantoro is a pioneer of Indonesia's independence, national education and culture," the Sultan said.
Rector of UGM, Prof. Ir. Dwikorita Karnawati, M.Sc., Ph.D., hoped all educators would be able to make use of knowledge to deepen and analyse good information well so they would not easily get provoked by inaccurate matters.