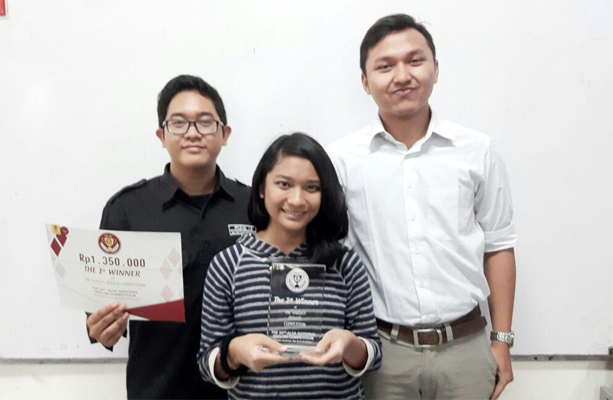 To celebrate the National Education Day on 2 May 2016, Universitas Gadjah Mada has awarded 37 outstanding students. These students have won gold medals in regional, national, and international competitions. Awards were also presented to 19 students that obtained silver medals and 6 bronze medals in various regional, national, and international championships.
"Obviously, we were proud of these achievements. We hope these outstanding students will form a community for them to interact, maintain and improve their achievements," said Rector of UGM, Prof. Ir. Dwikorita Karnawati, M.Sc., Ph.D., in the Balairung Hall of UGM on Monday (2/5).
According to the Rector, the achievements were made due to the hard work of many groups, also from leaderships at the Faculty level that had made many progresses.
UGM Director for Student Affairs, Dr. Senawi, M.P., added that many achievements have been made by UGM academics. The Directorate came out the best across Indonesia with 62 students up until 28 April 2016 have won gold, silver, and bronze medals in various regional, national, and international competitions.
Senawi added in year 2015 of all 9,586 new UGM students, as many as 2,905 (30.34%) were from underpriviledged families.
Compared to other universities with number of students coming from outside Java only reaching 10%, UGM is one with the most students from outside Java, or 37 percent.
"This makes us proud as UGM gives hope for underpriviledged families. We hope that later they will be able to break the poverty chains and improve their family condition," he said. The award presentation was also attended by the parents of the outstanding students and university and faculty leaderships.