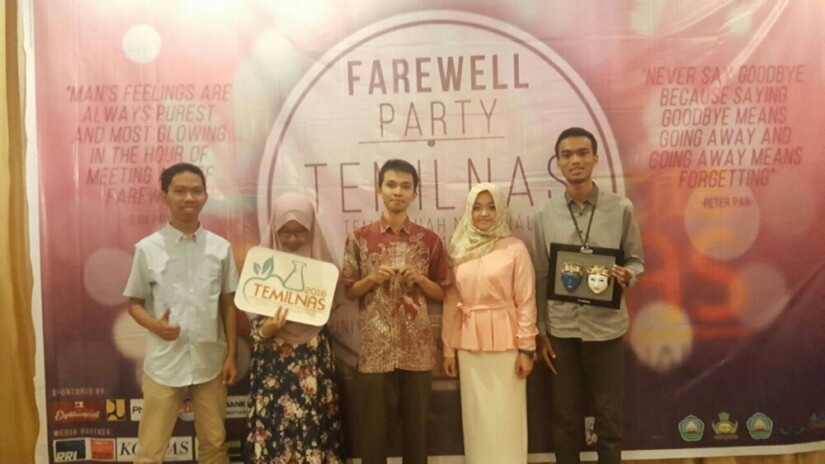 UGM Students continue to show achievements at the national level. This time, a team of students of the Faculty of Medicine successfully won the first title in the National Scientific Meeting 2016 that was held at the Islamic University of Malang from August 28 to 31.
UGM team which consist of two students of Medical program, namely Mohamad Reynaldi and Resa Paksi Mandariska managed to become champions by setting aside 67 other teams from various universities in Indonesia.
Reynaldi said in the competition organized by the Association of Indonesian Medical Student Senate each participant conveyed ideas related to the use of herbs for the treatment of allergies, degenerative problems, as well as infectious diseases. The idea is manifested in the form of posters.
"There were 68 posters being submitted and the 10 posters made it to the final round where each team has to present the poster," said Rendi on Thursday (4/8) at UGM.
Besides UGM, several other teams that qualified for the finals were Diponegoro University, Universitas Sebelas Maret, Lambung Mangkurat University, and the University of Udayana, Universitas Muhammadiyah Yogyakarta, Indonesia Islamic University, and the University of Hasanuddin.
Potential Use of Asiatic Pennywort
Reynaldi said in this competition they submitted a poster titled Productive Elderly: Prevent Dementia With Local Herbs. They promote the idea of exploiting the potential of Asiatic pennywort as prevention for dementia.
"Dementia is a disease that often occurs in the elderly. Therefore, we seek local plants that are potential for preventing this disease," he explained.
Asiatic pennywort or centella plant was selected as a preventive medication for dementia because it contains compounds such as asiatic acid. The compound can be used to regenerate damaged nerves that are used in the process of learning and memory.
To consume the herb is quite simple. The 1-2 teaspoons of dried leaves are brewed and soaked for 10 to 15 minutes.
"It is recommended that people consume it three times a day," he explained. (UGM /adelily)