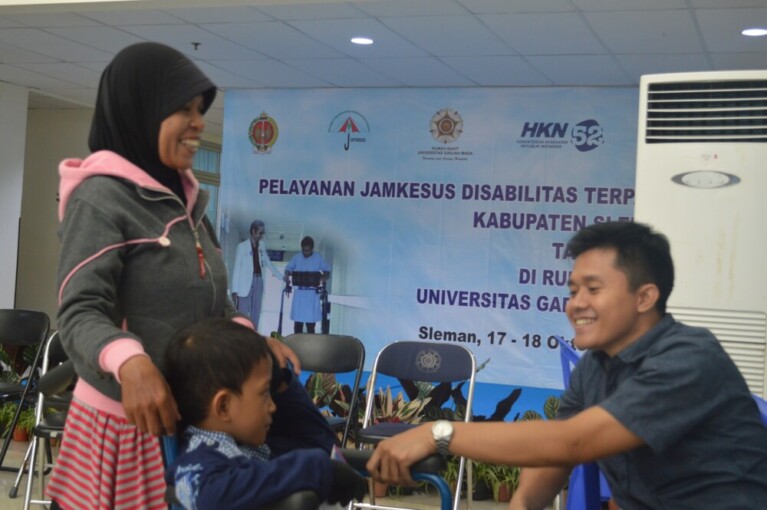 Universitas Gadjah Mada (UGM) has received 1 patrol car, 1 rescue car, and 101 bicycles from the BNI Bank. The aid was presented symbolically by Head of BNI UGM branch, Suryo Wikanthomo, to UGM Executive Secretary, Drs. Gugup Kismono, M.B.A., Ph.D., in the Balairung Hall UGM on Monday (17/10).
Suryo Wikanthomo said the aid was a form of care from the BNI to education. It is to support UGM in campus security and facilities issues. He added this was to support UGM in meeting the concept of a green campus. While on the bikes aid, he said "This is expected to support the student's mobility while on campus."
The programme is a follow-up to the cooperation that has been agreed previously. In June 2016, some forms of aid was presented by Vice-Director of BNI, Suprajarto, to Rector of UGM, Prof. Ir. Dwikorita Karnawati, M.Sc., Ph.D.
Gugup Kismono appreciated the aid from BNI Bank. It is to support the services from academic community in terms of safety and security. "With this aid, the safety and security of the university will get better," he said.
Head of UGM Safety and Security, Dr.Noorhadi Rahardjo, M.Si., P.M., also appreciated the BNI for the aid as during this time facilities on campus were still limited. "The aid can hopefully improve our efforts to secure the campus of UGM," he said.