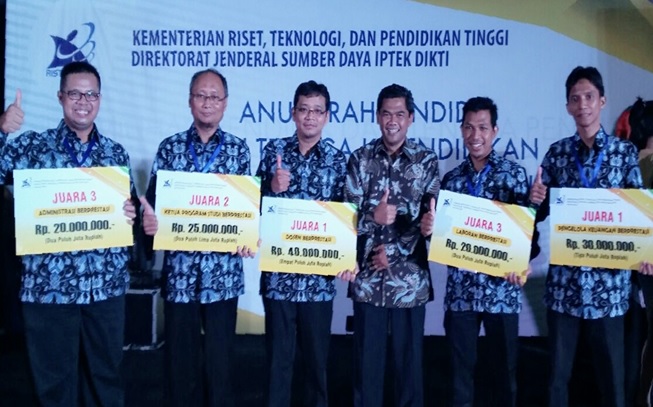 Five teaching and non-teaching staff from Universitas Gadjah Mada have become winners in the Outstanding Teaching and Non-teaching Staff 2016 competition, organised by Directorate General of IT Resource and Higher Learning in the Ministry of Research, Technology, and Higher Learning, from 26 – 29 October 2016 in Bandung.
They are Prof. Agung Endro Nugroho, S.Si., M.Si., Ph.D. Apt. from Faculty of Pharmacy winning the first award for outstanding lecturer category; Prof. Dr.Ing. Ir. Harwin Saptoadi, M.S.E. from Faculty of Engineering the runner-up winner of outstanding head of study programme category; Bagus Sri Widodo winning financial manager category; Franky Argus Adiwena, S.T. third winner of outstanding academic administrators; and Yusuf Umardani, S.T., M.Eng., third winner in outstanding Laborant Nationally in 2016.
UGM Director for HR, Dr. Ratminto, M.Pol.Admin., said the event was organised annually by the Ministry. This year it attracted up to 266 participants, comprising academic administrators 36, lecturers 63, head of study programme 48, laborant 44, finance managers 36, librarians 38 people.
"Up to ten finalists were selected for each category. Alhamdulillah, UGM won two gold medals in outstanding lecturers and financial managers categories," said Dr. Ratminto on Tuesday (22/11).
Ratminto hoped the success would motivate and inspire all teaching and non-teaching staff to always develop themselves and contribute to the university.