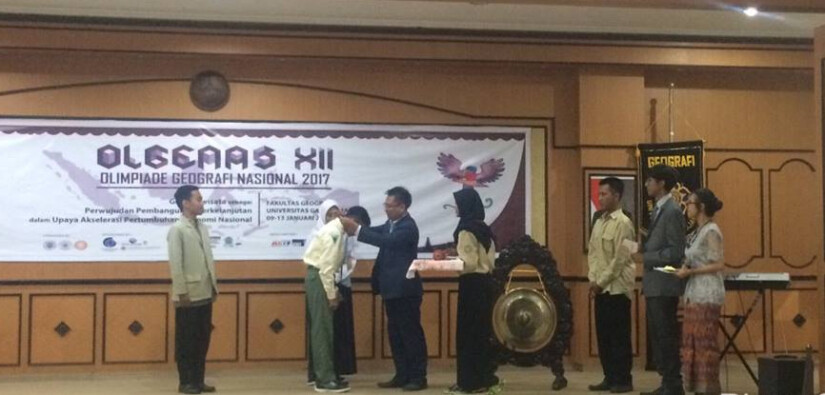 Faculty of Geography Universitas Gadjah Mada (UGM) will run the National Geographic Olympiad (OLGENAS) XII 2017 from 9-13 January.
The event hosted by the Executive Student Body of Faculty of Geography UGM is joined by 242 students from junior and senior high schools across Indonesia that are divided to 75 teams for junior high and 167 teams for senior high.
"The event is organised to introduce the geography science to junior and senior high students around Indonesia," said Alfian Nur Arozan Hidayattulloh, OLGENAS 2017 event chairman, during the opening of the OLGENAS on Wednesday (11/1) in the Merapi Auditorium, Faculty of Geography UGM.
The event was opened on 9 January 2017 by Dean of Faculty of Geography UGM, Prof. Dr. rer.nat. Muh. Aris Marfa'i, M.Sc. It has the theme Geotourism as Realisation of Sustainable Development in Accelerating National Economic Growth. There will also be national seminar, talkshows, and expo.
The Olympiad was first initiated by current Vice-Rector for Research and Community Service, Prof. Dr. Suratman, 12 years ago when he as Vice-Dean at the Faculty. Eversince, the competition has become the forum for students to increase their knowledge on the role of geography sicence and to produce future leaders who are capable intellectuals.
"Geography science is full with nationalism value because one of the prerequisites for the founding of a nation is the territory. I have initiated the OLGENAS to inspire future leaders, because to be a leader has to know geography," said Prof Suratman.
The competition is also expected to be the forum for producing solutions to national problems.
"I send a message to the teachers to promote the rescue of the Unitary State of the Republic of Indonesia. Environment degradation, poverty, unemployment, conflicts, and health problems, please resolve all these issues through the young hands," said Prof. Suratman.
The series of events of Olympiad are written tests in group, outdoor learning, multimedia and laboratory test, essay
presentation and scientific poster. OLGENAS orientates towards increase in student competition that cover cognitive, pscychomotoric, and affective aspects as the benchmark for learning success where students are taught to deal with the condition of Indonesia in the future.