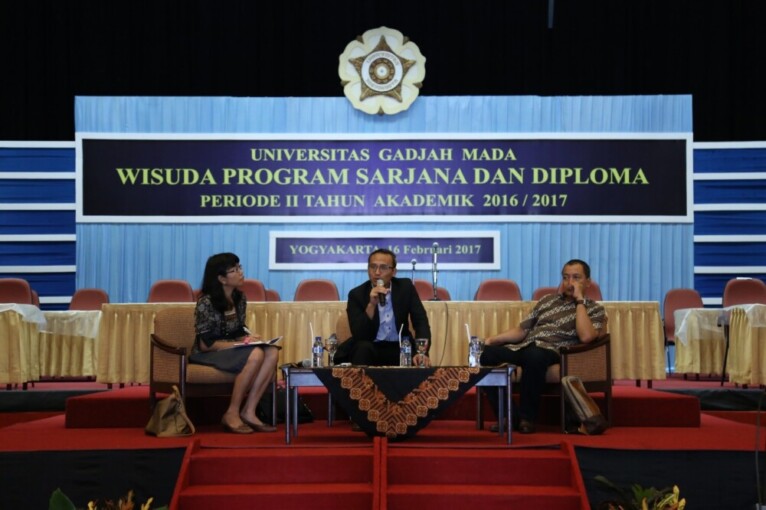 UGM has established a cooperation to enhance commercialisation management of innovations with PT. Rajawali Nusantara Indonesia (RNI) company by signing a Memorandum of Understanding (MoU) that was done between Rector of UGM, Prof. Ir. Dwikorita Karnawati, M.Sc., Ph.D., and Director of PT RNI, Didik Prasetyo, on Friday (17/2) at UGM Main Office.
Didik said the cooperation with UGM was done to encourage information exchange and experience sharing on technology transfer and commercialisation of research and innovation.
Didik mentioned some mandates that were asked by government of the company to be carried out on innovation related to raw medication materials and food security. He hoped the agreeement with UGM can be followed up with more concrete collaborations.
"The cooperation with UGM has actually run for some time, hopefully it will increase after the signing of the MoU. We want to follow it up with a more concrete cooperation. In the next few weeks, hopefully the projects with UGM will have emerged," added Didik.
The Rector welcomed the collaboration as this is in line with the socio-enterpreneurship spirit that was launched in 2012 by UGM.
"We hope our research products can be the tool for social entrepreneurship to generate profits for social interests and further research development," she said.
She said the cooperation with RNI would benefit UGM through the teaching industry model. The RNI can be the medium for the students and lecturers to learn the industry and developed related research.
Furthermore, the Rector offered opportunities to the RNI to develop research and development (R&D) that can be conducted at UGM facilities, such as UGM Academic Hospital.
After the MoU signing, a discussion was done by both parties to assess collaboration opportunities in strategic areas that are of mutual interests, for instance, agroindustry, pharmacy, health, animal husbandry, and construction.