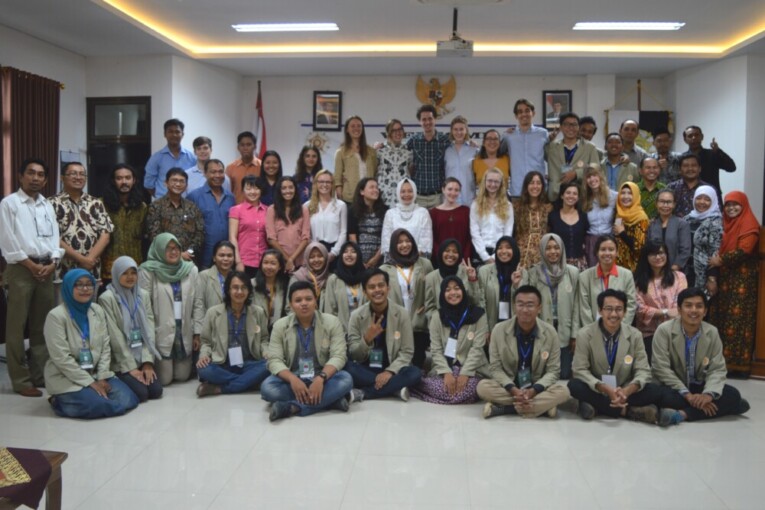 Eighteen American students joined the School of International Training Study Abroad (SITSA) programme conducted at the Faculty of Philosophy, UGM, from 19 February to 4 March 2017. Starting in 2009, this programme has given opportunities to international students to learn Indonesian cultural and historical values.
"The Faculty of Philosophy pays attention to the Indonesian philosophy, particularly the value of Pancasila. Here you can learn about the Pancasila values and other cultures existing in Indonesia," said the Dean of Faculty of Philosophy, Dr. Arqom Kuswanjono, as he talked to the students on Monday (20/2) at the Faculty.
This was shared by the Rector of UGM, Prof. Ir. Dwikorita Karnawati, M.Sc., Ph.D., who opened the SITSA programme this time. She said it was right that the event was organised by the Faculty of Philosophy because it was the foundation on which UGM was established and it is the appropriate place to learn the ideology underlying the establishment of Indonesia as a the world's biggest Muslim democracy.
"You can all learn how Indonesia, with the biggest Muslim population in the world, can be a major democracy," she said.
In its ninth manifestation of the programme, the SITSA had the theme of "History of the Hindu, Buddhist, Islamic, and Javanese Traditions".
Participants learned about the history of religions coming to Indonesia and how these flourished among the indigenous cultures for centuries.
She hoped the participants would be able to benefit from the programme to share experience and knowledge as well as social condition of their countries.
"I believe that, during your stay here, you can learn from each other so that we can sustain harmony for world peace. Through co-creation between the young people, world peace can be realised," she said.