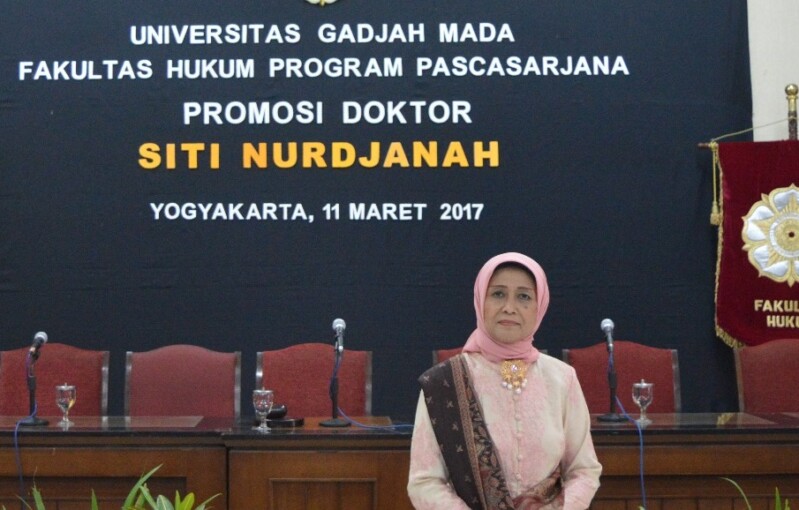 Law Nomor 5 Year 2014 on State Civil Apparatus (ASN) affirms and strengthens the position of judges as state officials. Their position has a long duration, which brings consequences in terms of recruitment procedures, who does the recruitment, procedure of appointment and training, and other consequences. This was said by Siti Nurdjanah, S.H. M.H., in her dissertation titled "the Position of Judges as State Apparatus to Realise Judicial Independence".
According to Siti, in terms of paradigm, there were basic differences between the position of judge as state officials and theirs as civil servants. Siti added when holding the state officail status, judges as civil servants have to comply with legal stipulations that regulate their positions as state officials and civil servants.
"This is not apart from the influence and dynamics of social political context that is happening," said Siti in her doctoral promotion at Faculty of Law UGM on Saturday (11/3).
Siti explained that the profession of judge is not only technical, but also intellectual based on integrity and morality. According to Siti, good judges will uphold dignity of their profession, as well as morality, integrity, and credibility.
Siti also said a good judge has to maintain independence and objectivity. They also have to be able to control themselves in conflict of interests that may arise with supervisors, colleagues, family, justice seekers, or anyone that can affect their verdicts.
Siti concluded that dualism in regulation and management of judges as state officials and civil servants are contradictory to the implementation of duty and function of judge in hearing a case and making the verdict. Besides, regulation of judge position as state officials that has judicial power has cause complex legal effects.