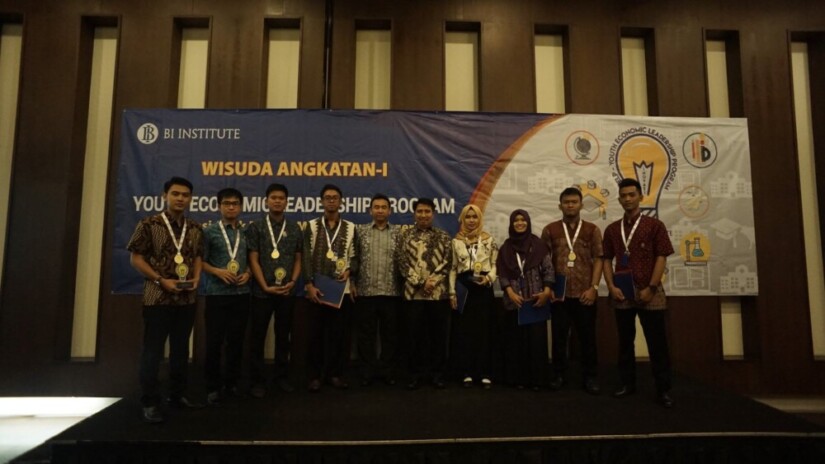 Students of Universitas Gadjah Mada have again made achievements at the national level. This time it was Abdullah Faqih, student from the Department of Sociology class of 2014 who earned the Youth Economic Leadership award during the Youth Economic Leadership Program that was organised by the Bank of Indonesia. The award is presented to young people who have contributed to the improvement of Indonesian people through innovative works.
There were 1,300 applicants who were selected by the Bank of Indonesia for the Youth Economic Leadership Program. The best 40 applicants from across Indonesia were then selected to go to the next round and join a mentoring programme from 6-10 March 2017 in Bogor, West Java.
During the mentoring, participants were supervised by experts, such as dr. Farid Aulia (Dean of Bank Indonesia Institute), Dessy Aliandrina (Executive Director of Sociopreneur Indonesia), Gendro Salim (President Director of PT Formula Bisnis Indonesia), Edo Lavika (Founder of Citas Ideaxi), and Roy Amboro (Analyst of Dinamis Organization Services). Participants were taught how to be the economic leaders of the future, which included economic leadership concepts, integrated thinking, economic breakthrough, creative problem solving, self-transformation, etc.
"Throughout the mentoring, the mentors also assessed the abilities of all participants both individually and in their teams," said Faqih on Wednesday (15/3).
The series of events comprising the Youth Economic Leadership Program were closed with an inauguration on 9 March 2017, attended by the Rector of Bank Indonesia Institute. Abdullah Faqih was one of the five best participants who earned the Youth Economic Leadership Award.
These five were considered to be the future economic leaders due to their understanding of nationhood, concept of economic leadership, and personality. On top of that, Abdullah Faqih was also declared the one with the most inovative idea for his team's socioenterprise project named as Voice for Changes, a project to improve the literacy of the blind people through audiobooks.