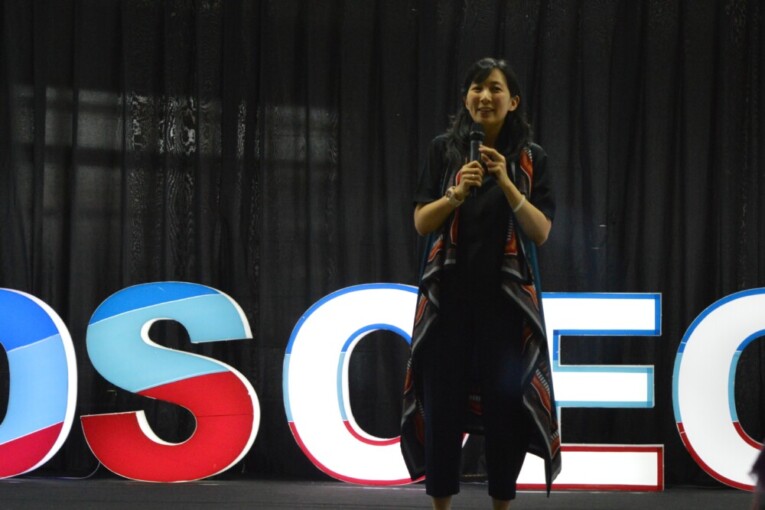 To commemorate the awakening event of Indonesia women, Center for Digital Society (CfDS) of Faculty of Social and Political Sciences UGM, has invited CEO of McKinsey Indonesia, Phillia Wibowo, to share her success story in generating the economy in Indonesia during the CEO Talk event on Thursday (20/4) at the Convention Hall of the Faculty, themed How Women Empower Digital Innovation.
Dean of Faculty of Social and Political Sciences UGM, Dr. Erwan Agus Purwanto, opening the event said that although gender equality has been given enough attention at campus environment, he saw that there is still room for debate. So, he hoped this event would impact positively on gender equality awareness.
"At this Faculty I don't think there is the problem of gender issue as we see almost 70 percent of our junior lecturers are women, But I think there is the need for advocacy elsewhere. So, I hope this event will benefit all," said Erwan.
Phillia Wibowo described two topics which seem unrelated, digital innovation and women's empowerment. Digital technology clearly presents new ways for interaction, including for bringing up unprecedented business potential. Even so, she emphasised the need for those that want to do digital business to know their role well, not just go with the trends.
On empowerment of women, especially on global economy, she said that women have capacity and potential for the economy and development, but this has yet to be utilised optimally due to a number of limiting factors. Specifically, she said there were 6 aspects for attention on empowerment, namely incentive and financial assistance, acces to technology and infrastructure, economic opportunities, capacity development, behaviour advocacy and building, also legal, political, and regulatory aspects.
She highlighted the technology aspect that she said as giving a chance for women's empowerment, particularly to open room for women to develop their capacity and potential in the areas they work on.
"Technology does help, but it cannot resolve all problems. So, here we have to engage women in resolving existing problems," said Phillia.
She added by delivering a message to society to start assign women as individuals that have big potential, not someone that needs protection. This understanding has to underlie campaigns for women.
"When you make campaigns on gender equality, say that this is good for productivity and growth. We have to open opportunities so that the potential that women have can be explored and generates important contribution," said Phillia.
CfDS also conducted launching of books and monography. Symbollically, this was done by presenting the books from the writers to the Dean of the Faculty.