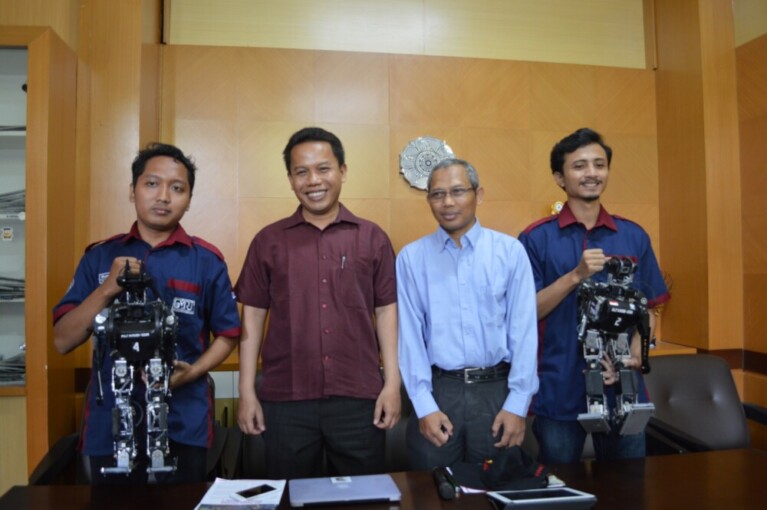 Universitas Gadjah Mada has once again been assigned to host Regional 3 Indonesian Robotic Contest 2017 (KRI Regional III). It will run from 11-13 May 2017 in Grha Sabha Pramana hall UGM.
The contest will see three divisions, Indonesian ABU Robotics Contest (KRAI), Fire Extinguisher Robotics Contest (KRPAI), Football Robotics Contest (KRSBI) and Robotics Dancing Contest (KRSTI). As many as 73 teams will join those contests.
"Those that will pass and become winners in each division will go through to the National Robotic Contests (KRI) at Universitas Pendidikan Indonesia, Bandung to be held in July," said Ahmad Agus Setiawan, S.T., M.Sc., Ph.D, Head of sub-directorate of Student Creativity UGM, at Fortakgama room, Tuesday (9/5), prior to the holding of the contests.
Ahmad Agus Setiawan said the Indonesian Robotics Contest was a competition for robotics design and engineering. It aims to develop and increase student's creativity.
"The students are expected to be able to apply science and technology in the real world as well as to raise their awarenes in robotics development," he said.
Maun Budiyanto, ST., M.T, supporting manager for KRI Regional III, said as many as 73 teams would join the four contest divisions. As many as 17 teams will join the KRAI, 26 KRPAI, 17 KRSBI and 13 KRSTI.
"For the preparations, we are constructing five venues, particularly for the prestigious Robotics ABU contest. Those that win the Robotics ABU contest will go to the international one to be held in Tokyo, Japan, in August 2017," said Maun Budiyanto.
Maun added the KRI Regional III would involve 10 national juries. "The summit of the contests will run on Saturday, 13 May 2017, starting at 07.00 hours. Tickets to see it can be ordered online or going to the venue in GSP UGM for the price of IDR25 thousand," he added.
Ahmad Kholid Kartiyoso from Gadjah Mada Robotic Team (GMRT) expressed his readiness to join the contests. Gadjah Mada Robotic Team will go to all the four divisions of contests.
"We prepare Robot Alfan for KRSTI, Robot Fukuro for KRSBI, Robot Alfatih for KRPAI and Robot Heroes for KRAI. We hope to win and go through to the finals nationally," said Kholid.
Ahmad Kholid explained since November 2016, Gadjah Mada Robotic team had opened recruitment. "We started to do research by the end of last year, how to develop robots that can function maximally and make evaluations to produce better robots," he said.