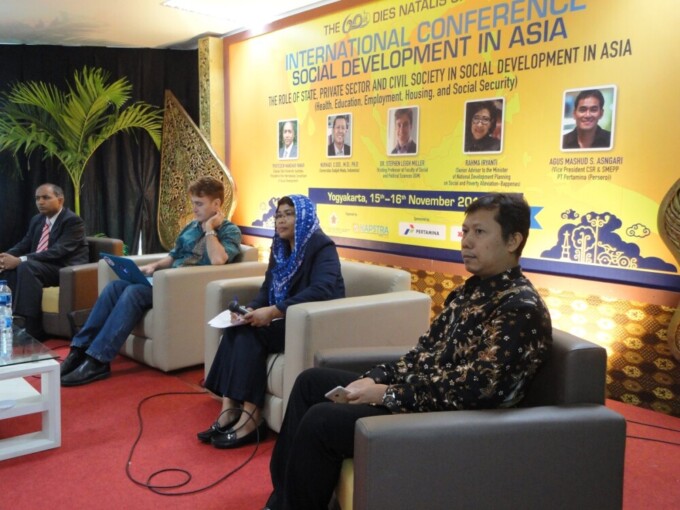 The number of impoverished people in Asia ranks the highest in the world. This is because Asia still deals with development issues, especially population growth, social gap, and inequal economic welfare. Hence, aligning the concept of social development with the target of The Sustainable Development Goals (SDGs) is an effort to achieve social welfare. This emerged in the international conference titled Social Development in Asia from 15-16 November 2017 at Faculty of Social and Political Sciences UGM on Wednesday (15/11).
The conference was held by Social Development and Welfare Department UGM, presenting speakers, such as President of International Consortium of Social Development (ICSD), Prof Manohar Pawar, expert staff to Minister, Rahma Iryanti, lecturer from University of New South Wales, Dr. Stephen Leigh Miller, Vice President for CSR of PT. Pertamina, Agus Mashud S. Asngari, as well as lecturer from UGM, Nurhadi, S.Sos., M.Si., Ph.D.
Nurhadi said governments in Asia generally faced three major problems, which are social, economic and environmental development. "Integrating the three major problems always become the main barrier, which makes sustainable development in Asia difficult to achieve," he said.
To resolve the problems, Nurhadi saw the need for central and regional governments to engage private role and civil society and to encourage public participation in each of social development policy making. The public participation will generate support from society. "Therefore, a sense of common possession will emerge, the public can even assess and monitor the results," he said.
Another problem is to interpret the SDGS program into development planning. "There is a wide gap between SDGs target and implementation," he added.
Meanwhile, Prof. Manohar Pawar said an ideal concept on social development strategy had yet to be made in each country.
"There is no ideal approach in social development concept, whereas social development outlook and economic development differ," he said.
Even so, the current social development cannot be apart from the world's target and achievement in the SDGS program. Some of the program include human resource improvement, fair growth, safe and peaceful community, social integration, fair economic condition, urbanisation reduction, better government bureaucracy, and encouragement in technology disruption and social development in the local level.
Pawar said achievements of these matters could be seen from the results such as the increased quality of social lives. "What is more important is the emergence of respect among people to always grow together," he said.