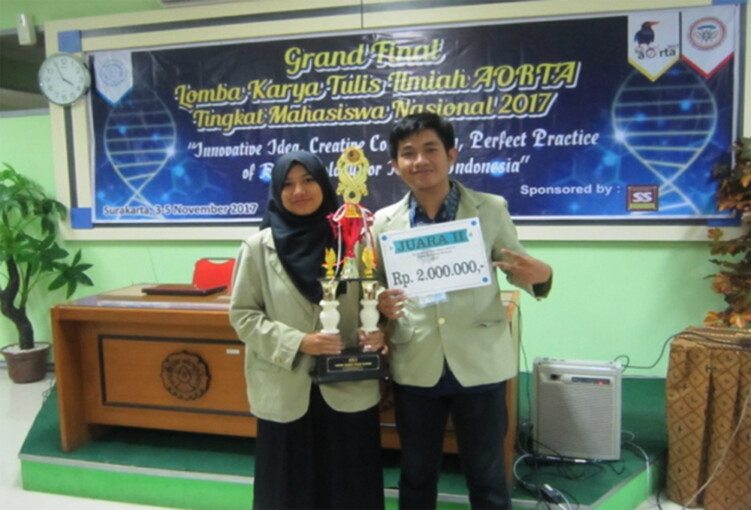 Student teams from Faculty of Biology UGM succeeded to become the second and third winners in the Sports and Talents Event (Indonesian acronym: AORTA) Scientific Writing Competition which was held by Biology Students Association, Universitas Sebelas Maret, from November 3 until 5, 2017 in Surakarta, Central Java. Meanwhile, the first winner is achieved by the team from Universitas Indonesia.
In this competition, UGM team consisted of Muhammad Alif Ishak, Hasim Ashari and Syindi Ariska Fraditya Putri. They succeeded to earn the runner-up position by presenting their scientific writing entitled Increasing the Phytoremediation Capability of Mercury Waste and Biofuel Production through merA gene insertion in Chlorella sp. At Sekotong Traditional Gold Mining, West Lombok, West Nusa Tenggara, which is under the supervision of Dr. Yekti Asih Purwestri, S.Si., M.Si. Meanwhile, another team who earned the third position was led by Arkan Setiaji and Muhammad Ulil Absor. They presented their scientific writing with a topic on Dendrobium phalaenopsis in situ conservation under the supervision of Dr. Endang Semiarti, M.S., M.Sc.
Muhammad Alif Ishak said they had passed the proposal selection stage, starting from abstract selection, full paper selection, until the grand final. "UGM succeeded to dispatch two teams to the final stage," said Alif on Friday (17/11).
Alif said there are 24 teams who passed the abstract selection and only 12 teams who passed the full paper selection. "Then, these 12 teams presented their scientific writing in front of the juries," he added.
Arkan Setiaji said becoming the winner of scientific writing competition motivates him to keep making innovation in research as well as sharing various information on biotechnology sector.