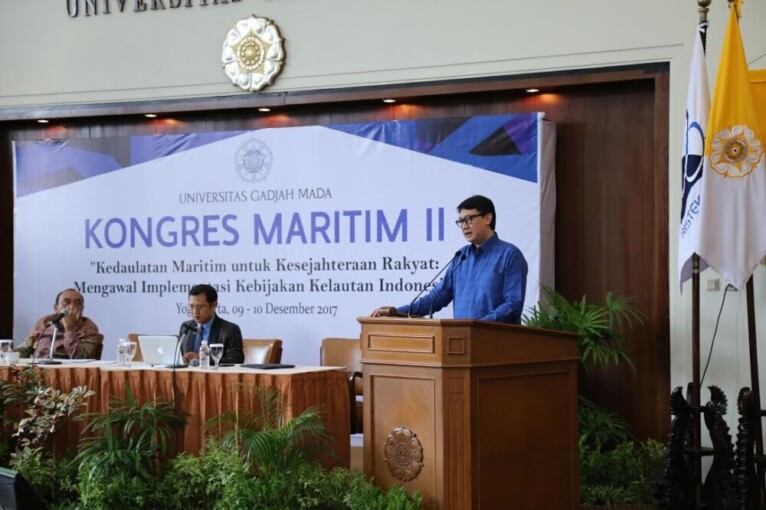 Higher learning institutions need to build maritime cluster s to encourage Indonesia's maritime sector. This was said by Deputy Head of Maritime Sovereignty in the Coordinating Office of Maritime Affairs Ministry, Dr. Arif Havas Oegroseno, in the Second Maritime Congress: Maritime Sovereignty for People's Prosperity on Saturday (9/12) in UGM Senate Hall.
"The role of academicians in the maritime building is much expected. And I have always promoted when visiting universities that universities need to have maritime clusters," said Havas.
Havas expected, going forward, universities might build a maritime cluster as a centre for scientific discussion among academics related to maritime sector building. This will also serve as the media to share information among academics on maritime and marine programme.
"An internal assessment can be made on programme of excellence that can be designed by the university. A meeting between university maritime clusters can be held to make new innovations," he said.
Governor of the Province of Yogyakarta Special Region, Sri Sultan HB X, in the remarks read out by Regional Secretary, Gatot Saptadi, said to accelerate the Nusantara maritime culture was – among others – by implementing short term geostrategy.
"This can be done through maritime culture based education as well as habituate to eat fish to increase the calories consumption per capita," he said.
Inspired by the maritime spirit that had once reigned the nation, he said, it needs to build a progressive maritime nation, which is independent and dignified, based on world maritime axis that is supported by sea tolls to be the connecting media of the archipelago. This would require cultural strategy support to prepare the young generation that is confident as well as maritime insightful and skillfull.
"This strategy becomes the trigger for long term transformation towards the culture of Indonesia that orientates to the maritime side of the young generation," he said.
Meanwhile, Head of Maritime Security Agency, Adm. Arie Soedewo , S.E., M.H., highlighted the security of Indonesia's seas. This could be achieved by the synergy between related agencies.
"But synergy would not arise if everyone wants to stand out. Synergy can be established if there is trust," he said.