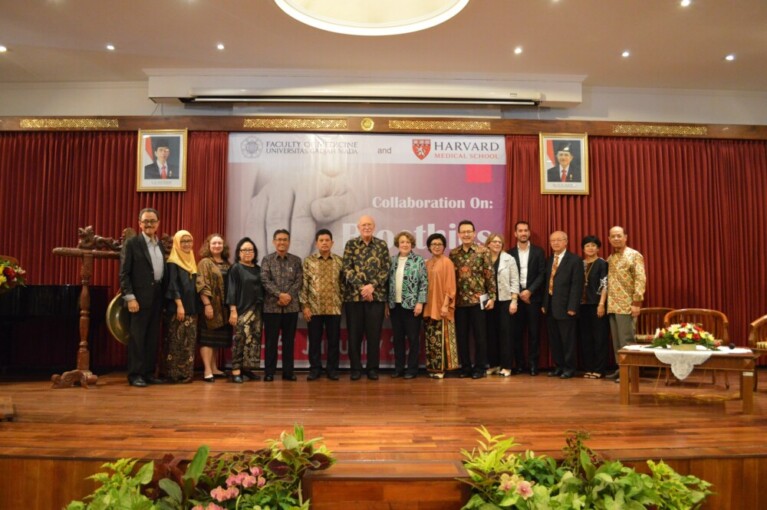 Director General for Science and Technology in the Research, Technology and Higher Education Ministry, Prof. dr. Ali Ghufron Mukti, M.Sc., Ph.D., said the Ministry was preparing strategic plans on student character development as leader candidates. By this measure, the students are expected to be smart and competent while having good character and integrity.
"The strategic plans will not only make the university as centre for education or research, but also centre for student development," he said in the auditorium of Faculty of Medicine UGM on Wednesday (3/1) during the International Conference on Ethics for the Vulnerable.
With the strategic plans, Ali Ghufron said, the student would have character and integrity that are characterised in hard work ethics, tolerance, and competence.
Further on health services and funding in Indonesia, said Ali Ghufron, since year 2014 the country had seen a new era with the implementation of National Health Security that changed the way how health services were delivered.
"With the National Health Security, rich or poor people have the same access to health so all citizens have health security in place," he explained. Ali Ghufron admitted some barriers found on the implementation, but he said these ought to challenge human resource in health sector to understand the new reformed health services and make them work.
"The reforms relates to the funding system both by society and doctors," he said.
With the new system, Ali Ghufron asked everyone to understand that the agency that runs the national health security (BPJS) will have different methods of calculations from doctor's. He suggested medical faculties to teach this concept of change in health services.
The International Conference on Ethics for the Vulnerable was organised by Center for Bioethics and Medical Humanities (CBMH) of Faculty of Medicine UGM in cooperation with Harvard Medical School (HMS) to promote health awareness of society and quality of problem handling or ethical dilemma in health services.
Speakers of the event were Prof. Dr. dr. Fahmi Idris, M.Kes (Director of BPJS), dr. Yanri Wijayanti Subroto, Ph.D, Sp.PD, Jolion McGreevy, MD, MPH, MBE, MST, Prof. dr. Yati Soenarto, Sp.A(K)., Ph.D, Rebecca Brendel, JD, MD, Prof. Dr. dr. Agus Purwodianto, DFM, SH, M.Si, Sp.F(K) and Christin Mitchell, RN, MS, MTS, FAAN. The moderators of the event were Prof. Byron Good, Ph.D, BD, Prof. Mary Jo Good, Ph.D and Dr. CB Kusmaryanto, SCJ.