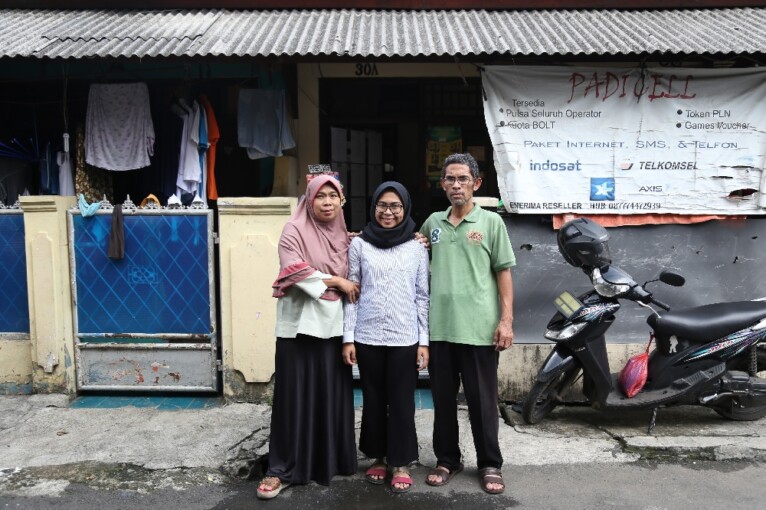 Humans do not get to choose their parents. We do not decide to be born into a rich family, middle-class, or even poor family. However, that does not mean we cannot choose our life paths.
For example, Dea Mandasari (18) has never complained about being born into a lower-middle-class family. She chooses to continue pursuing her dreams despite the limitations.
Although her father only works as a parking attendant, Dea is not ashamed of dreaming to study at a college. As an outcome of her effort and perseverance, she is admitted to the Accounting Department, Faculty of Economics and Business UGM without taking the entrance test.
Dea is the second child in a family of four children. She is the daughter of Turino Junaidi and Sadati. The father works daily as a parking attendant at Kebayoran Lama Market, South Jakarta. Meanwhile, the mother supports the family economy by selling phone credit.
Turino has been working as a parking attendant for 13 years. He receives Rp 1.5 million monthly for directing vehicles in parking areas. His salary can barely support the needs of his wife and four children. To keep the kitchen bustling, Turino also delivers fresh products from Kebayoran Lama market to several restaurants in Jakarta since 6 years ago. He receives Rp 70,000 daily for this job.
Turino's perseverance in supporting his family deserves an acknowledgment. During the days when he is not working as a parking attendant, he becomes a ride-hailing driver.
"I work as a parking attendant for 15 days, so I work every two days from 11.00 am to 06.00 pm," he explained.
Bearing the heavy burden of supporting his family amidst the harshness of the capital city seems to make his appearance age faster. He looks older than his real age, 47-year-old. Rather than to accumulate wealth, he is working hard to fund the children's education, the most important thing in his life.
In his plain rented house on Rawa Simprug area, Grogol, South Jakarta, Turino explained that he and his family have been living in the 3×9 house since 2012. Previously, they lived in a relative's house on Kramat area before the evictions.
"I have not yet made my family happy and all I can give is this small house," said Turino while holding back his tears.
He could not contain his happiness when he discovered that his second child was accepted into Universitas Gadjah Mada without taking the test.
"I am so proud of Dea. We as parents will always support her." He had to borrow money to pay for Dea's dormitory.
Dea said she has been dreaming of studying at a college since she was a junior high school student. Considering the family's condition, she could not tell her parents about her dreams.
"I never stopped trying and praying. I believe God will show me a way," said the alumna of 48 Senior High School South Jakarta.
Apparently, results do not betray efforts. Since elementary school, she always becomes the top 2 students in her class, also the top 10 students in junior and senior high school. In fact, she earned the second highest score of UASBN in her school for Social Science major. Moreover, the girl also managed to get a BIDIKMISI scholarship from the government that funds her tuition fees up to 8 semesters. She hopes by studying in college she can improve the life of her family. Her main dream is to build a house for her parents one day. Dea plans to find a side job during her study at UGM. She does not want to burden her parents in funding her college necessities.
Meanwhile, the mother, Sadati (48) revealed that Dea is a diligent and determined child in pursuing her dreams. Dea has a strong determination to reach her dream of entering college and becoming a scholar.
"We thought it would be difficult without money, but I always encouraged Dea to continue studying and get a good academic record to apply for a scholarship in college," said Sadati.
Turino and Sadati are very grateful to have children who are considerate of the family condition. They are also proud of raising the children and sending one of them to college.
"We hope that Dea and all of our children can be successful and make their parents proud," added the parents.
Dea is one of the thousands of Indonesian children who were born into poor families. However, this girl successfully proved that poverty and economic insufficiency are not obstacles in pursuing a higher education.