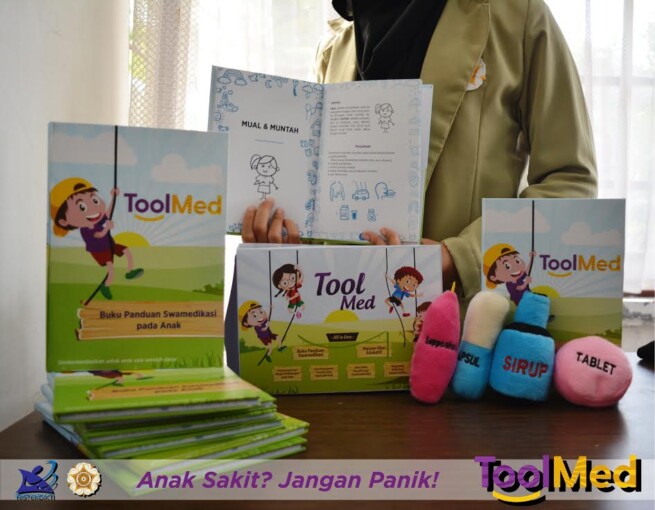 Is your child sick? Do not panic! There is no need to take the children to doctors for a cough, flu, or fever. Simply treat them by following the child medical handbook written by a team of UGM students.
The book named as ToolMed is intended for parents to take care of their sick children. ToolMed is a child self-medication manual book equipped with drug-shaped dolls. "ToolMed carries three main points, which are interactive, educative, and applicative," said Asa Salsabela Arianti Wijayanti, Tuesday (7/10) in UGM.
Asa developed ToolMed along with three other students, Uliya Ita Rahmita (Pharmacy), Kamila Muyasarah (Medicine), and Sandy Arya (Industrial Engineering). The self-medication manual book came from the UGM Student Creativity Program for Entrepreneurship.
The idea to write ToolMed, according to Asa, was to educate parents in treating their children without doctors. Moreover, the book uses a simple language that is easily understood by anyone. "There is no self-medication book on the market with easily understood language intended for the public," said the Pharmacy student.
She explained the book discusses every medical problem, including definition, causes, fun facts, non-medicinal and medicinal therapy, therapeutic thinking, as well as case examples.
ToolMed comes in a colorful and fully illustrated design created by UGM students. Moreover, the drug-shaped dolls are intended to improve children's cognitive knowledge and as a fun method of introducing medicine to children. ToolMed is now available in several pharmacies in Yogyakarta for Rp75,000.