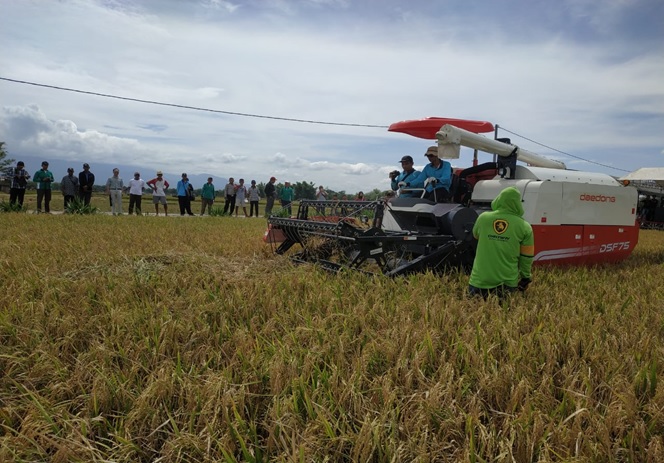 Agricultural Engineering and Biosystem Department of Faculty of Agricultural Technology UGM once again introduced a modern agricultural machine to the farmers of Palur village in Kebonsari district, Madiun regency, East Java.
Department Chairman, Prof. Dr. Bambang Purwantana, M.Agr., said the machine was a product from South Korean company, AGM S&E that affiliates with Seoul National University (SNU) and Daedong Co., which have been collaborating with the Department for the past two years.
"The programme is a means to introduce some agricultural machines, namely tractors and rice combine harvesters, to give an alternative to the farmers and improve their agricultural productivity and welfare," he said alongside the demo event on Saturday (1/12) in Madiun.
The socialisation and demo were part of the community service projects of the Department in cooperation with Agricultural and Fisheries Agency of Madiun. As many as 130 farmers attended the event, also Prof. Kyeong Uk Kim, main researcher from AGM S&E, and Seoul National University, and Mr. In-Cheol Yeo from Daedong Co.
Bambang said the the machine was a Combine Harvester Kioti type which is a full seeding combine harvester of 73HP power and has 2 m cutter length.
"The machine can improve the work performance during harvesting such as reaping, cleaning, sorting and packing," he said.
Meanwhile, the tractors on display were 45HP powered Kioti DK45 for rice cultivation, also Kioti RX72 for sugar cane.
He hoped the socialisation and demo would improve the knowledge and skills of the farmers and in the future benefit them and withdraw the attention of the young people to work in agricultural areas.
Facilities Section Head of the Madiun Agriculture and Fisheries Agency, Isna Handayani, welcomed the event "This event can give additional insight and knowledge to the Madiun farmers for advancing the local agriculture," said Isna.
The Madiun area has been chosen as the first area in East Java for the programme after Yogyakarta in Prambanan, Bantul, and Kulonprogo areas in November.