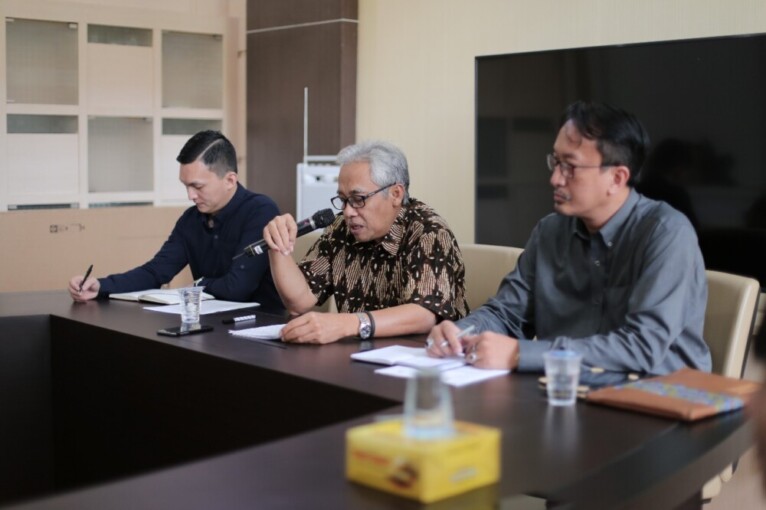 Rector of UGM, Prof. Ir. Panut Mulyono, M.Eng., D.Eng., officiates Research Farm (Closed House) on Tuesday (23/4) at Faculty of Animal Sciences UGM. The Research Farm is a result of a cooperation between the Faculty and one subsidiary of PT. Japfa Comfeed Indonesia Tbk. (JAPFA), PT. Ciomas Adisatwa.
Prof. Dr. Ir. Ali Agus, DAA., DEA., IPU., Dean of the Faculty, said the Research Farm aimed at supporting student research both from undergraduate and graduate programmes. "We hope the presence of Research Farm would increase research at Faculty of Animal Sciences. We aim at achieving the ranks of Best 5 Faculty of Animal Sciences in Asia and Best 10 among tropical countries, " he said.
Ali said the cooperation with JAPFA was not the first time to make. It started in 2003 with the construction of Teaching Farm, then in 2017 with the construction of Post-harvest Laboratory with a capacity of 20,000 chickens per day.
This was confirmed by Syamsir Siregar, President Commissionary of JAPFA. He explained JAPFA apart from meeting feed needs also aimed at building education in the country. He said the cooperation with UGM was an effort for the students to develop the animal sciences.
"We help provide research supporting facilities that are in line with the latest industrial development. When they graduate, they will be ready for the industry," he said.
The rector said that the Research Farm would enable the students in determining the research topic to be more suitable to the industrial demand. Hence, the research product will be easier to market. "This also answer the criticism raised at us related to the slow downstreaming of our research products," he said.
Panut further thanked and appreciated JAPFA, saying the effort by JAPFA was a good example of the link and match between education and industry sectors.
"Improvement of education quality should not be just supported by government but also private industry and all elements of society. We believe that the programme with JAPFA would give real benefits to Indonesian society. I hope the cooperation would sustain in the future," he said.