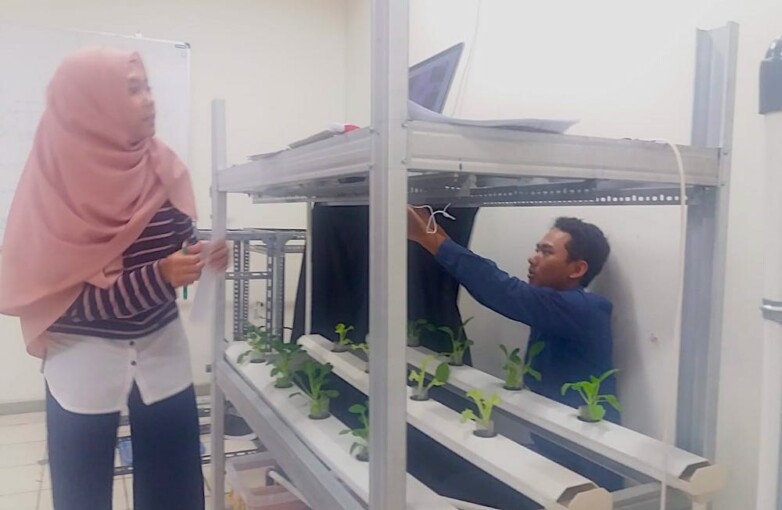 Agricultural Engineering UGM students have developed a system to monitor the growth of agricultural plants in real time.
"We developed a new method in monitoring the growth and development of a plant by using a stereo camera that supports the application of precision agriculture concept," said Mira Aprilia Nur Fadilah, on Wednesday (3/7) at UGM.
Mira said in their system a stereo camera with two or more lenses were used. Each lens was equipped with image sensors to take the plant image in real-time. The image was then processed and referred to to count the height of the plant and the width of the canopy by utilising the difference in depth of colour disparition.
From the monitoring of plant height periodically, the growth was observable in time series, while the canopy width could be used for estimating the plant development.
"We employ the Depth Perception method to monitor the height and development of the plant in real time. This will make monitoring easy to do in the Plant Factory," she said.
Mira and her fellow students Ardan Wiratmoko as well as Yusuf Abdhul Azis conducted the research in the Student Creativity Programme under the guidance of Dr. Andri Prima Nugroho. The research was funded by the Higher Education Directorate General.
The research was conducted in the Smart Agriculture Research of Agricultural and Biosytems Engineering Department, using vegetables with a variety of leaf types in the Plant Factory.
Ardan added the research started from the student's wish to give contributions to agriculture during Industry 4.0. amidst problems such as limited land and climate change. Ardan said Plant factory was a technology of the future to resolve unstable condition of the environment and land utilisation. Ardan explained the conventional growth monitoring was still done manually. The new monitoring method could do precise monitoring so as to improve production.