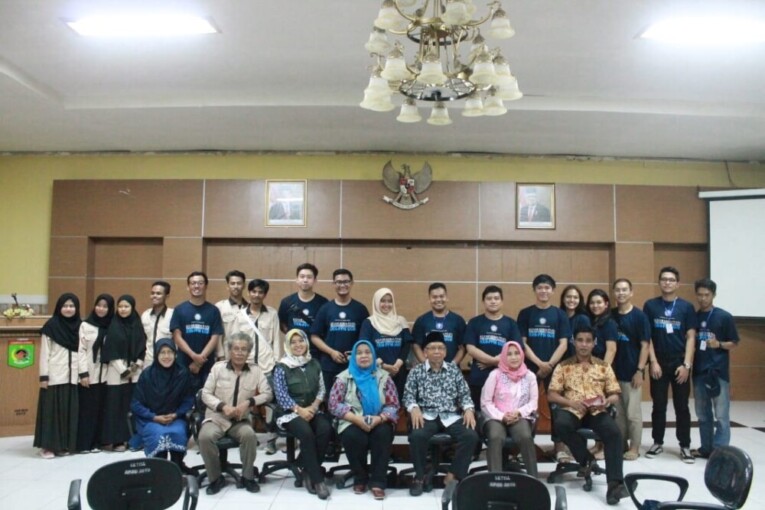 30 Gadjah Mada University students from various faculties have been serving their dedication in the Tanjung Subdistrict, North Lombok District from 21 December 2019 to 8 February 2020. They are divided into four sub-units, named Jenggala, Tanjung, Sokong, and Medana Villages. Economic and Cultural festival entitled Senandung Tanjung Festival was held as a closing of the entire series of programs and services.
"This festival carries the concept of a people's party in which proposes of fostering a spirit of morality for being a productive and independent society," said Marthan, the Cormanit Unit of the Tanjung who came from the Faculty of Forestry.
The festival which was held in the Bupati's Office Hall was attended by the North Lombok Regional Secretary. Drs. H. Suardi, M.H., North Lombok Bappeda, Heryanto, SP., Assistant 3 Regent, Kasubdit UGM KKN PPM, Dr. Ir. Ambar Kusumandari, Field Supervisor, Dwi Umi Siswanti, S.Sc., M. Sc. (lecturer from the Faculty of Biology), the KKN students of the Mataram University along with their supervisors, also the people of North Lombok.
The festival, entitled Senandung Tanjung, presents a variety of children's performances, fairs of small businesses, cultural performances, and competitions for children and mothers. Children from four sub-units are trained by KKN students to perform songs, dance and poetry in addition to the performance of a local band from North Lombok Youth Organization.
Some small businesses that have received assistance from KKN students include coffee shops, producers of virgin coconut oil, fruit juices, liquid organic fertilizer, compost fertilizer, fish processing and inorganic waste processing works, also exhibited at the festival.
Competition for children contains coloring and drawing activity, while competition for mothers is in the form of the health quiz competition. Those activities are full of tremendous enthusiasm from the community. It is expected that the massive development launched by the regional government after the earthquake 2 years ago, will be finished faster supported with active collaboration with the natives and related partners.
"The Senandung Tanjung Festival is not only considered as a closure program but also as a form of KKN withdrawal and farewell from the community and the North Lombok regional government," said Dwi, the Unit Field Supervisor.
Author/Reporter: Satria
Translator: Natasa