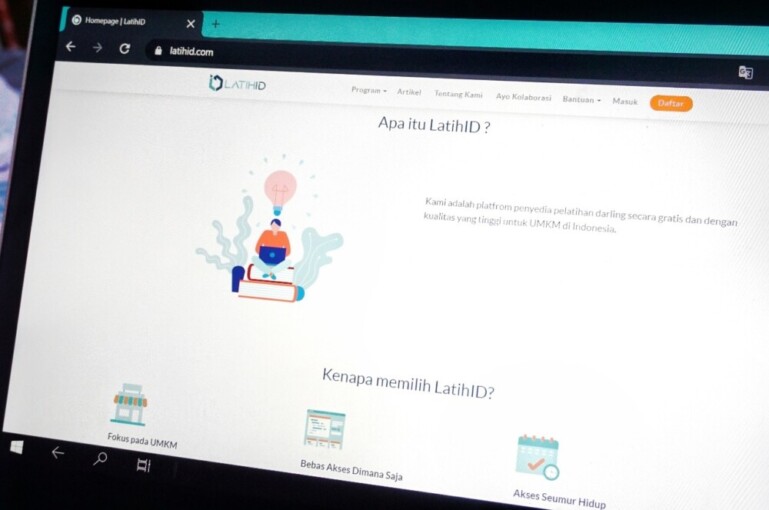 Indonesia's economy has experienced a severe challenge because of Covid-19 pandemic. One of the strategies to strengthen the national economy is to improve the quality and competitiveness of Micro, Small and Medium Enterprises (MSMEs). Hence, MSMEs have a significant role and share in developing the economy in Indonesia.
Unfortunately, access to quality learning for MSMEs commonly requires high costs. There is a way to reach free credible educational media. The source comes from abroad, and it uses foreign languages as an introduction. However, this will not be too applicable to the conditions and profiles of the SMEs majority in Indonesia.
Despite from concerns about these conditions, some UGM alumni spearheaded by Yulisyah Putri Daulay (Industrial Engineering 2013), Muhammad Nabil Satria Faradis (Mechanical Engineering 2012), Rischa Agustina (Industrial Engineering 2014), Dyah Ayu Permatasari (Chemical Engineering 2013), Santika Wibowo (Accounting 2013), Muhammad Ersan Ramadhan (Computer Science 2012) and Aulia Arman (Physics Engineering 2010) then pioneered LatihID.
LatihID is an online education platform that provides free and quality Training to MSMEs throughout Indonesia. Besides, LatihID also aims to increase the number of young entrepreneurs as the future of Indonesia by connecting the ability gap by increasing competencies for SME owners in Indonesia.
According to Putri, she got the inspiration of the establishment of the LatihID from learning system that she gained while pursuing postgraduate education in Melbourne, Australia. Putri and her friends hope that LatihID can become a leading e-learning platform to help Indonesian MSMEs to endure and compete in the market, both nationally and globally.
To achieve this vision, Putri explained that LatihID currently has three primary programs, consisting of LatihID Modules, LatihID Talks, and LatihID Story Corner (PETA). The LatihID modules are accessible and available in latihid.com. Each module consists of several lessons developed and adapted to various types of businesses.
Meanwhile, the LatihID Talks program is a series of online classes proposed to increasing knowledge and skills in the MSME sector. Through this program, LatihID presents UMKM experts or practitioners who will present material, share experiences, and straightforward discussion with the participants.
Next, the PETA Trainer is a short video collection that aims as a forum for entrepreneurs or MSMEs to share their experiences and knowledge with the broader community. The videos posted on the site and the LatihID social media account.
Nabil added the strengths of this LatihID include the material focusing on the development of MSMEs in Indonesia. He also said that the material was in practical and straightforward language so that people could directly apply the material. "With the support of business partners, LatihID provides users with free access for life for all content provided. Besides, these materials are accessible and flexible. It is not limited to a particular time or place," he said
Nabil said that he and his friends believed that in this knowledge-based economy, the performance of MSMEs depended on all relations with the latest knowledge and skills. "Training is the central and essential method for developing human resources in the business that intends to motivate employees, build their skills, and ultimately improve business performance. A practical and sustainable training method that allows MSMEs to support local economic development, succeed in the global market, and conclusively improve the Indonesian economy," he concluded.
Currently, LatihID has gained support by receiving a Grant from YSEALI Seeds for the Future Grant 2020 from the US Department of State, the University of Melbourne – Australia, and Climate Reality Australia.
Author: Hakam
Translator: Natasa A