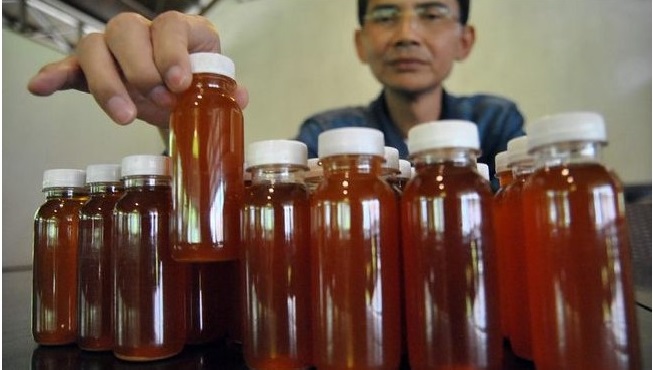 Covid-19 cases in Indonesia keeps increasing day by day. Thus, it has made many parties want to participate in its effort both in groups and individually, even people without a medical background.
There is no restriction on the involvement, which means it is also legitimate. However, people must be accounted for their participation. Likewise, participation in healing efforts, all potion products produced must have concrete evidence that can be trusted logically or scientifically.
In some recent times, there was viral news regarding eucalyptus necklaces, now following the case of the herbal product Hadi Pranoto. These phenomena certainly bring a lot of responses, especially from academics, from the medical and pharmaceutical circles.
Prof. Dr. Suwijiyo Pramono, DEA., Apt, Herbal Medicine expert and BPOM RI consultant from the UGM Faculty of Pharmacy, said that even though they claim to be able to prevent Covid-19 infection, people are still disobedient. Those who wear eucalyptus necklaces in the end always being careless for not keeping their distance, wearing masks, and wash your hands frequently. We must appreciate Puslitbangtan for finally taking steps to consult with the POM about steps to carry out a clinical trial.
"And it looks like BRIN will fund this. That is how it should be, not immediately making bombastic statements that can astonish colleagues in medicine and pharmacy," he said on Thursday (13/8) while responding to several viral cases related to herbal medicine for Covid-19.
According to Suwijiyo, likewise, about the herbal Hadi Pranoto, one of his provocative statements is that these herbs can spur antibodies and liquefy the mucus in the body be expelled through sweat, urine and bowel movements. This statement indeed invites questions from molecular biologists, pulmonary specialists, and other doctors.
"This statement doesn't make any sense at all. But apart from that, there is nothing wrong with us trying to be neutral first by putting aside the existing polemic. We must first examine the composition of the herbal preparation formulas produced and promoted," Suwijiyo said.
In Hadi Paranoto's herbal work, there was a statement telling about the components of turmeric, mangosteen peel extract, palm sugar, and coconut water. If examined based on the ingredients written in the formula, the first is turmeric. Empirically turmeric is used to relieve various types of inflammation, rheumatism, stomach pain, liver disease, kidney stones, and cleanse menstruation. Rhizome mixed with warm milk utilized to cure colds, bronchitis, and asthma.
Suwijiyo stated that the various available studies had a catch point on the active ingredient, namely the yellow color curcumin, which has an in vivo immunostimulating effect in experimental mice. The problem started in the herbal formula is only called turmeric.
"We don't know how to process the turmeric, whether it is squeezed, boiled, or extracted. How much curcumin is in it because scientifically curcumin is not very good in water solubility," Suwijiyo said.
Then about the components of the mangosteen peel extract, there is a question whether Hadi Pranoto in producing herbs extracts the mangosteen peel himself or buys it from the extract manufacturer. When examined from a scientific perspective, mangosteen peel contains mangosteen, which has an antioxidant effect. Hopefully, it can also protect the body from free radicals that may come from viruses.
"It seems that Mr. Hadi Pranoto does have the intelligence to combine ingredients with immunostimulant effects, antioxidants and one more thing that empirically looks logical, namely coconut, water. Do we doubt whether Hadi Pranoto made such potions based on the knowledge he gained after reading books or searching on social media? Or does it exist empirically even though the original indication was not for overcoming Covid?" he explained.
It's just that, said Suwijiyo, who later also caused problems with herbal products by Hadi Pranoto, who claimed that the ingredients were able to cure 20 thousand people infected with Covid-19 within five days. According to him, if this is true, it may be necessary to ask where the current 20 thousand patients are.
"Unfortunately, he didn't explain it, so it was impossible to trace it. If it is true and proven after being traced, all assumptions that have been incorrect so far will be rejected. But if it is not true, it is clear that this is a public falsification that can endanger society," he added.
Author: Agung Nugroho
Photo: CNN. Indonesia
Translator: Natasa A