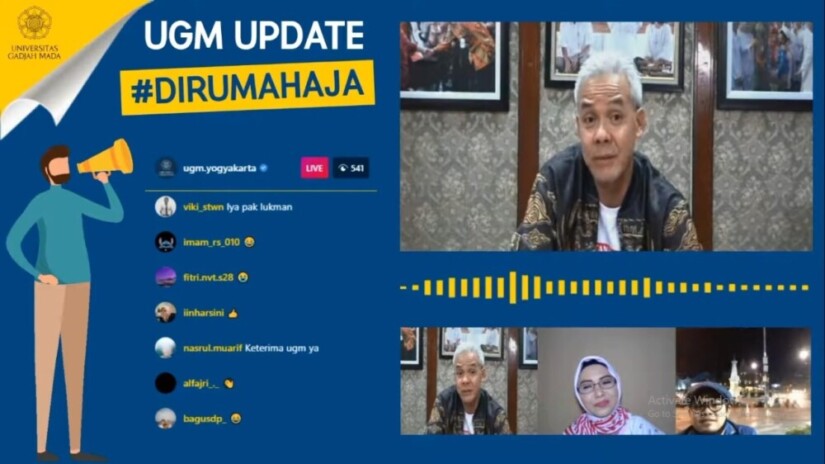 UGM has officially accepted 2,518 freshmen candidates through the State University National Entrance Examination On Friday (14/8). Furthermore, there are still 1,753 prospective students accepted from the State University National Admission Selection.
In the UGM Update Alumni Talk event with Ganjar Pranowo on Thursday, this has become the topic discussion. This event is broadcast live through various UGM social media platforms, from Youtube, Instagram, and Facebook. The Head of PP Kagama was here to share his experiences and struggles when he was a student back then.
Similar to the current UGM admissions applicants, Ganjar stated that he also worked hard during the first university registration period. He said his main target was always to enroll UGM. Regarding the intended direction, he admitted that his brother took a part in influencing him to his dedication.
"I was interested in enrolling three majors, namely law, communication science, and archeology. However, my brother has successfully influenced me to enroll in a law major, similar to him. Finally, my first choice is a law, and I chose communication as the second preference," said the Governor of Central Java.
In addition to the major preferences, Ganjar also admitted that he was given learning components to pass the selection exam by his brother. "He gave me the lesson every Monday to Saturday, I almost never apart from the book. On the other hand, when it was Saturday afternoon until Sunday, my learning session was over, I was required not to hold books," he explained.
According to Ganjar, these tips for learning were working. He was successfully accepted at the UGM Faculty of Law which at that time was one of the favorite majors in Indonesia with many registrants.
"I still remember clearly when I was accepted at that time. I'm helping sell gasoline near my house in Kutoarjo. On the day, I bought a newspaper because that was the only media used to announce the election results. I checked and it turned out that my name was listed as one of the participants who has successfully passed the test. Immediately I left the gasoline trade to go home, which is only 70 meters away. When I got home I told my mother, she kissed my cheek as she was crying happily," he said.
Furthermore, Ganjar shared how he could become what he is today considering the difference between work and his previous major. According to him, this may be because since his school days he was known to have a passion for politics. "When chatting with friends, I used to often correlate anything with politics, even though I forgot myself sometimes," he said jokingly.
Then, when he graduated, Ganjar said that originally he was not involved in the political world at all. However, finally when he worked and met the late Professor Cornelius Lay. He offered Ganjar to join a political party. This is what led him to become a board member in 2004 and until now he has become the Governor of Central Java.
"They say, succeeded people come from passion and knowledge sometimes. University and science only lead us to discover our talents. Many of our alumni work according to their passion, but apart from their majors. The lecture is not just using lectures in the room. But take advantage of the network, the environment, learning the organization, and so on. That will be very useful in the future," he ordered.
Author: Hakam
Translator: Natasa A