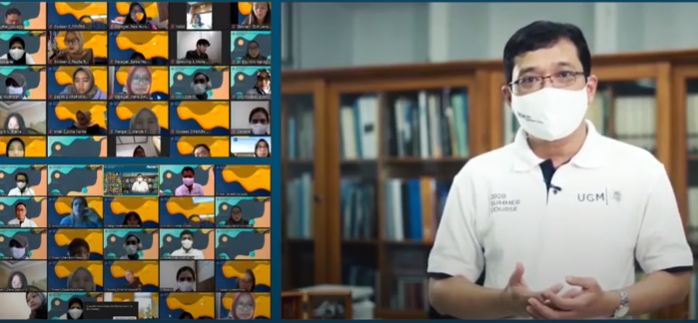 UGM Faculty of Medicine, Public Health, and Nursing (FK-KMK) along with the UGM Faculty of Pharmacy and the UGM Faculty of Dentistry organized the 2020 Virtual Summer Course program "Interprofessional Health Care on Health 4.0: Managements & Technologies for Improving Primary Health Care in Developing Countries ", on October 26 – November 20, 2020. The summer course implementation was intentionally conducted online for the first time due to the Covid-19 pandemic.
Prof. dr. Ova Emilia, Ph.D., as the Dean of FK-KMK UGM, said that the 2020 Virtual Summer Course intends to increase cooperation between health professionals to improve primary health services in developing countries using a 4.0 technology approach.
According to her, it is very necessary to improve interprofessional education correlated with each other by cooperation between health professionals in health service management and technology through an interdisciplinary and multi-university approach. "Hopefully, there will be an improvement in the management of health problems in a holistic manner," she explained on Monday (9/11).
She also added the participants and support persons who attended the 2020 Virtual Summer Course from UGM, UI, UB, VU Netherlands, NUS Singapore, Flinders University Australia, California Northstate University USA, and IMU Malaysia.
Dean of the UGM Faculty of Pharmacy, Prof. Agung Endro Nugroho, supported that the theme selection for this summer course was raised based on Indonesia's current condition in handling various health problems. Such as the large number of infectious diseases that are frequently comprehensive and renewable, the high prevalence of Non-Communicable Diseases (PTM), the nutritional status of maternal and child health, distribution of health personnel, and the lack of access to health quality in rural areas. "Furthermore, there is Covid-19 infection, which has now become a pandemic," he said.
He also said that the 4.0 industrial revolution's appearance offered a variety of changes and advances, including the field of health technology that changes the perspective of health services itself. He believed that this technology's development and innovation are capable of reducing problems and support efforts to develop the quality of health services in the present and future.
"Nevertheless, the quality of technology mastery endures in the hands of the health resources within," he said.
He also revealed that human resources in the health sector must be more responsive and adaptive in challenging developments in this era of digital technology. "We strongly encourage the efforts to strengthen prospective health professionals in this era of technological development in the hope human resources will be more qualified," he said.
Author: Gusti Grehenson
Translator: Natasa A