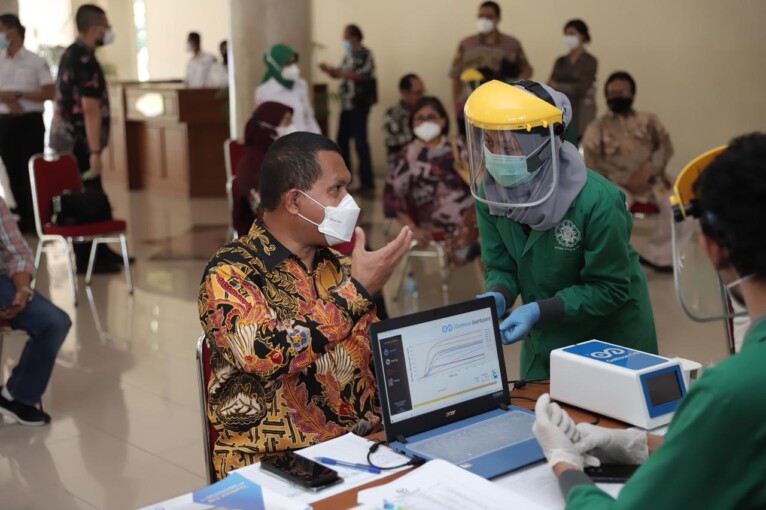 Commission IX of the Indonesian House of Representatives (DPR) encouraged GeNose C19 as a medical tool for early detection of Covid-19 to be utilized in every health facility such as health centers and hospitals around Indonesia. The reason is that this domestic tool can detect Covid similar to PCR and antigen swabs with affordable cost for each test. "If it is utilized in health centers with legal certification, we will unthinkingly provide it," said Emanuel Melkiades Laka Lena, the Deputy Chairman of Commission IX of the Indonesian Parliament, during a working visit to the UGM campus on Monday (15/2), in the Senate Hall, UGM Central Building.
Emanuel assured that Commission IX would support medical device products from the UGM to be extensively used at all societal levels. His party would also demonstrate the government to use the tool. "Politically, Commission IX will promote this product. The health products from the DPR conferences are requisite for the government and the DPR. We have duties on monitoring the certification acquired (GeNose) and providing funds raise, "he said.
He revealed that Commission IX leadership and members admitted to being proud of the GeNose team's progress. He still clearly remembered that GeNose was one of several medical devices that UGM presented last year's visit during the pandemic period. Nevertheless, GeNose C19 is incredibly agile in terms of its development in helping to overcome pandemic. "At that time, there were some of them GeNose and ventilators. Along the way, the fastest answer for covid is GeNose. I thought GeNose products were an example of Presidential Instruction No. 6 of 2016 concerning the development of the domestic pharmaceutical industry and medical devices," he said.
UGM Chancellor, Prof. Ir. Panut Mulyono, M.Eng., D.Eng., expressed his gratitude for the support provided by Commission IX of the Indonesian Parliament regarding the utilization of health products from the UGM research team's innovations. "We truly feel a great support and dedication from Commission IX's for innovations and inventions related to tools and drugs to overcome this Covid pandemic," he said
According to the Chancellor, the support from the House of Representatives Commission IX's members has given extra motivation for other UGM researchers to design further innovative products that are undeviatingly advantageous to society. "This support further reinforces UGM to remain to participate and contribute to finding the problems' solutions in our nation so that we can recover from a health crisis and revive the economy soon," he said.
Prof. Kuwat Triyana, as the main researcher for GeNose C19, said that he hardly believed that this tool could increasingly develop so far and be beneficial among the community. Although this product has not been widely used because at this time, there were only eight stations and a few hospitals that had utilized it. "The support from Commission IX is truly remarkable. In fact, last July, there was still doubt whether this product could be accomplished or not. Nonetheless, the support and process until today have brought us to the implementation of the tools in stations. The national covid task force also encourages the implementation of GeNose in the field," he concluded.
Author: Gusti Grehenson
Photo: Firsto
Translator: Natasa A