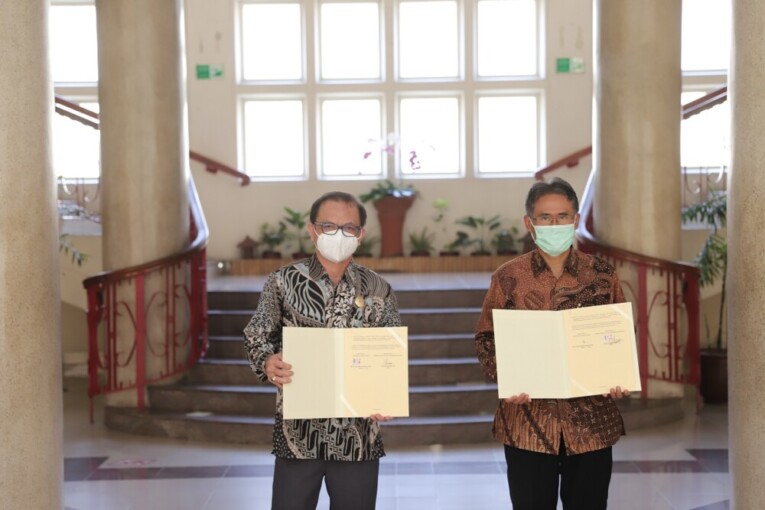 UGM has been well known as an integrated university that has built several collaborations with many important parties starting from state institutions, private companies, etc. One of the efforts is to connect community welfare. This time, UGM built collaboration in education, research, and community service with the central information commission of the Republic of Indonesia (KIP RI) on Friday (23/4). Both parties agreed to sign the memorandum of agreement regarding this collaboration. It was officially signed by Prof. Ir. Panut Mulyono, M.Eng., D.Eng., IPU, ASEAN Eng., as UGM Chancellor and Gede Narayana, S.E., and M.Si., as the KIP RI Chairman. Gede considered this collaboration an obligation to do because universities had important roles in conveying the information. Hence, this helps them to achieve goals in campaigning public information disclosure.
"Poverty is not only perceived as moneyless or starving, but the limitation to information is also another poverty. We considerably need this public information disclosure for the sake of community welfare. We need right, true, and accurate information to be delivered to the community," he said.
He also added that campus was a vital media to publish science and good governance as one of the goals from public information disclosure bills. Leaders and public officials are born this way. Therefore, it is highly important to develop individual behavior with accountability and transparency.
"Since UGM is one of the oldest and biggest campuses in Indonesia, we highly expect for the concrete synergy of public information disclosure in the village sector, education, and state universities," he said.
UGM kindly welcomed this collaboration. It is also expected that later this agreement is in black and white, further than that UGM wants to be involved in implementing public information disclosure bills to increase the quality and quantity of community understanding regarding public information disclosure.
"Information has become the most important aspect to us. It introduces us to knowledge, insight, and broader sciences. How can we compete with other countries if we don't have basic information? I hope we both can perfectly implement this collaboration for us and the sake of nation and state," Panut concluded.
Author: Hakam
Photo: Firsto