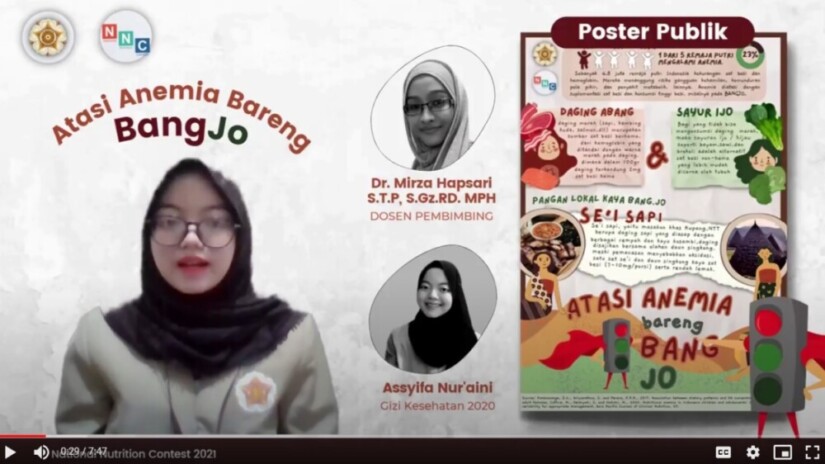 Nutrition and Health student Assyifa Nur'aini won first prize in the 2021 National Nutrition Contest held by Nutrition students of the State University of Semarang. The competition opens for registration on 18 August and concludes with the winner announcement on 26 September. The three categories of competition are essay, poster, and recipe creation.
Winning the poster category, Syifa explained that her piece aims to encourage the consumption of red meat and green vegetables to overcome iron deficiency and the prevalence of anemia in adolescent girls. Her poster also features the low-fat, iron-rich beef Sei from Kupang to represent Indonesian food made of both red meat and veggies.
With the guidance of UGM nutritionist Dr. Mirza Hapsari, Syifa wants to increase public awareness of the importance of red meat as a source of heme iron and green vegetables as an alternative to non-heme iron. As some people cannot eat or limit their consumption of red meat, green vegetables can be a perfect substitute to meet the body's iron needs.
Syifa opines that the competition provides a fairer assessment of the works compared to other contests. The jury is made up of those with a background in communication and design in addition to nutrition. Questions and rules about design techniques and originality are presented in detail and quite strictly.
"It is fairer than most online competitions whose winner is determined by social media likes. This competition is purely based on the jury's assessment, originality of the work, design techniques and elements, and visual briefs such as reasons for choosing colors. In addition to the helpful committee and affordable registration fees, the competition offers promising exposure and prizes," said Syifa, Saturday (2/10).
Syifa hopes that there will be more competitions to improve non-academic skills for health students. The poster and recipe-making competition, she continued, increased students' competence and enthusiasm for learning. Prioritizing the jury's decision over the number of likes in determining the winner gave the impression that the competition really appreciates the participants' work.
Author: Desy