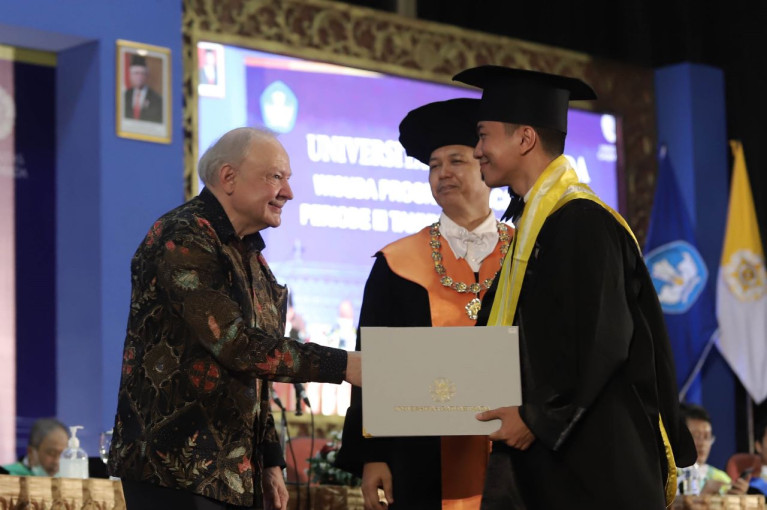 The Ambassador of the Kingdom of Norway to ASEAN, HE Kjell Tormod Pettersen, attended the graduation ceremony of nine students from Indonesia, Thailand, Vietnam, and Myanmar who have graduated from the ASEAN Master in Sustainability Management program at Grha Sabha Pramana on Wednesday (10/5).
The ambassador was invited to come on stage to congratulate the graduates in person after they received their diplomas. Ambassador Pettersen told reporters that he was pleased with the invitation.
The nine graduates are recipients of scholarships from the ASEAN Master in Sustainability Management program, which is a collaboration between the Norwegian Embassy, ASEAN University Network, and Universitas Gadjah Mada.
"This is an imposing graduation ceremony. I am glad that many students are graduating today with this MBA degree. It shows that our investment hasn't been in vain, and it's been worth it," said the ambassador.
He advised the graduates to use the knowledge gained as well as possible to help them pursue their careers and navigate the future.
"Hopefully, they get a good job and have a good career," he said.
Regarding the continuation of scholarships for the program, he assured that his party encourages this program to continue to improve the quality of human resources in the Southeast Asian region.
"We always assess what kind of cooperation will continue. We have a successful couple of years behind us. And now, we're assessing the next phase. So that's where we are now," the ambassador explained.
Secretary of the UGM Master of Business Administration, Dr. Rocky Adiguna, added that the ASEAN Master in Sustainability Management aims to create future leaders with a deep understanding of sustainability and the management skills needed to address various challenges the ASEAN region faces. The program is designed with a multidisciplinary approach, integrating environmental, social, and economic concepts in its curriculum.
"With comprehensive knowledge and high-quality education, graduates of this program are expected to bring sustainable solutions to ASEAN while enhancing cooperation among member states," he said.
The first batch of the program started in 2021-2022, with the participation of 23 students from 8 ASEAN member states. From this first batch, 16 have graduated, with nine attending the graduation ceremony and seven choosing not to attend. These seven graduates are from Vietnam, the Philippines, Cambodia, and Myanmar.
The presence of participants from different countries and backgrounds creates a dynamic learning environment and rich perspectives, allowing students to learn from each other and develop critical thinking in dealing with complex sustainability issues.
The program also allows students to build a vast professional network, collaborate on research and projects, and get support from experts in the field of sustainability.
"Through this comprehensive and collaborative approach, we are committed to creating a generation of leaders capable of bringing positive and sustainable change to ASEAN," he said.
Author: Gusti Grehenson
Photographer: Donnie