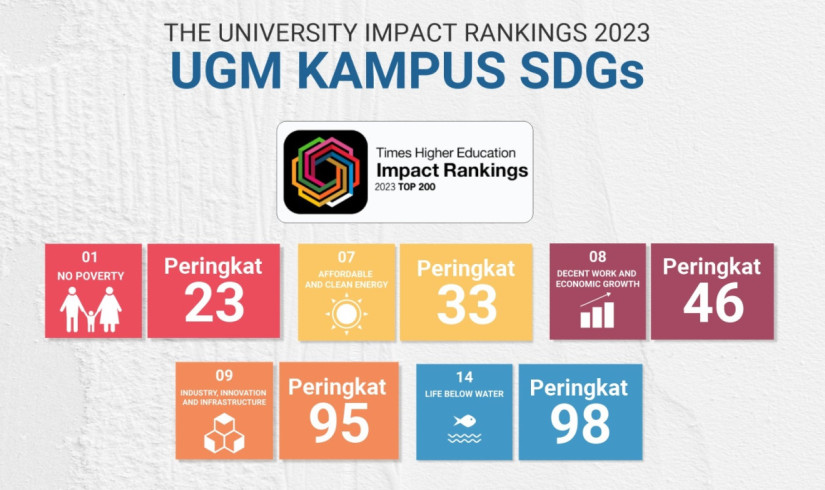 Universitas Gadjah Mada (UGM) is among the world's 50 best universities that contribute to the delivery of Sustainable Development Goals (SDGs) 1, 7, and 9, according to the latest Impact Rankings released on Thursday (1/6) by Times Higher Education.
"UGM's mission, as mandated by the founders, is to carry out education, research, and community service as well as preservation and development of knowledge that is excellent and beneficial to society," said UGM Rector, Professor Ova Emilia, on Thursday (1/6).
"UGM's contribution to the delivery of the Sustainable Development Goals is evidence of the implementation of this mission."
THE is the only ranking agency that measures the contribution of universities in the world based on the 17 goals set by the United Nations.
In the 2023 Impact Rankings, UGM is ranked 23rd in the world for SDG 1 (No Poverty), 33rd for SDG 7 (Affordable and Clean Energy), and 46th for SDG 8 (Decent Work and Economic Growth).
UGM also occupies the top 100, precisely at 95th for SDG 9 (Industry, Innovation, and Infrastructure) and 98th for SDG 14 (Marine Ecosystems), and the top 200 for five other SDGs, namely SDG 2 (Zero Hunger), SDG 5 (Gender Equality), SDG 6 (Clean Water and Sanitation), SDG 15 (Terrestrial Ecosystems), and SDG 16 (Peace, Justice, and Strong Institutions).
THE assesses several relevant metrics of each SDG. Data for each metric comes from various sources, including data submitted by universities and bibliometric data from Elsevier.
The overall ranking covers 1,591 universities worldwide, while for each SDG ranking, the number of universities included in the assessment varies. Overall, UGM is ranked in the top 200 in the world.
Source: Universitas Gadjah Mada World Class University Team